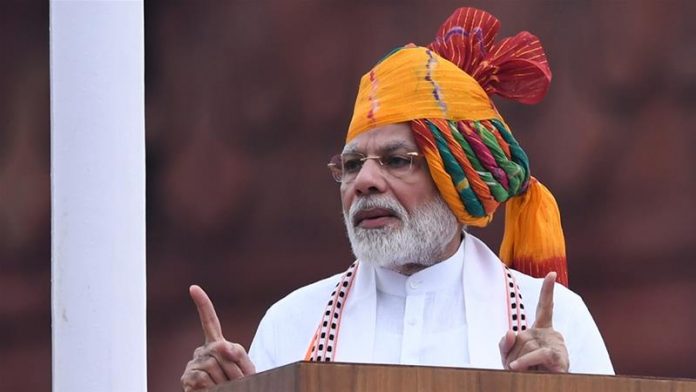 Modi calls for population control and announces creation of Chief of Defence Staff post
New Delhi: Prime Minister Narendra Modi has hit back at critics of his government's decision to revoke the autonomy of Kashmir, saying its special status had only led to terrorism and separatism.

The move will allow Jammu and Kashmir and Ladakh to play a meaningful role in India's development, Modi said while addressing the nation on Independence Day from New Delhi's 17th-century Red Fort.

Population control
Modi also spoke on the need for population control during his Independence speech from the ramparts of Red Fort.
Modi said that there is a greater need for discussion and awareness on the population explosion.
"Population explosion will cause many problems for our future generations. But there is a vigilant section of public which stops to think, before bringing a child to the world, whether they can do justice to the child, give them all that she or he wants. They have a small family and express their patriotism to the country. Let's learn from them. There is need of social awareness," Prime Minister Modi said.
Prime Minister had a word of praise for those who are going for small families. He said that such families are observing a form of patriotism. He said: "Those who follow the policy of small family also contribute to the development of the nation, it is also a form of patriotism."
Modi said India stands strongly against terrorism, and is presenting before the world the "true colours" of those who shelter and finance terrorism.
Modi said India is fighting against terror with great strength, and will not support any country that shelters and finances terrorism.
"We will expose before the world all exporters of terror. We, together with other countries of the world, will fight those sheltering terrorism, financing and exporting terrorism. We are presenting their true colours in front of the world."
He said neighbouring countries — Bangladesh, Afghanistan and Sri Lanka — have been victims of the terror attacks.
"So when India is fighting against terrorism, we are playing our role on the world stage," he said.
He greeted Afghanistan that is going to celebrate its 100 years of Independence after four days.

Creation of Chief of Defence Staff post
In a major move, Modi also announced the creation of the Chief of Defence Staff (CDS) post, that has been a long-pending recommendation of various defence panels.
Modi said: "I want to announce a major decision from the Red Fort: India will have a Chief of Defence Staff — CDS. This is going to make the forces even more effective. The new CDS post will oversee all the three wings of the armed forces."
The creation of a CDS post had been a major recommendation of the Kargil Review Committee — of integration of the three services — Army, Navy and Air Force — under a Chief of Defence Staff. However, no concrete action was taken on this, until now.
The government appointed Lt Gen D.B. Shekatkar (Retd) as head of an 11-member committee to recommend measures to enhance the combat capability of the armed forces and re-balance defence expenditure.
The committee suggested a four-star Chief of Defence Staff as the chief military adviser to the Defence Minister.
The Prime Minister's announcement was immediately welcomed by former Army chief General Ved Prakash Malik (retd), who was the army chief during the Kargil War.