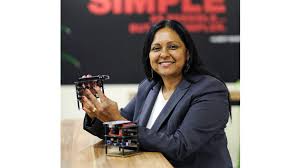 Astropreneur and former NASA rocket scientist Dr Bidushi Bhattacharya on why space exploration demands diversity
The UAE will make history by sending its first astronaut, Hazza Al Mansoori, to space on September 25. He will spend eight days in the International Space Station carrying out various scientific experiments. But, what does this mean for the UAE, and the planet in general?
With ongoing criticism about whether countries should spend robust amounts on space exploration, we ask Dr Bidushi Bhattacharya, a rocket scientist turned astropreneuer, what space exploration means for the former military pilot and the rest of the nation. With over two decades of experience working for NASA and in higher education administration, Dr Bhattacharya says, "By drawing public imagination and focus, the UAE is now making space exploration a matter of national identity and a source of pride for its people.
"Look, we need diversity in the space sector," she continues. "The International Space Station (ISS) is like a giant orbiting lab where scientists are constantly doing experiments. For the UAE, this highly visible step makes space a viable career option for young people. It paves the way for the next generation of experiments."
Dr Bhattacharya has worked on some of the most exciting space ventures known to mankind, including the Hubble Space Telescope and the Mars Rover. After leaving NASA, she founded the Astropreneurs HUB (astro-launch.com), Southeast Asia's first space technology incubator, and Bhattacharya Space Enterprises (bse-space.com), a Singaporean startup dedicated to space-related education and training. Today, she shares her enthusiasm for space technology through lectures and workshops, including the Dubai World Government Summit in 2018.
So, what drew her to the field? A self-proclaimed "space nerd obsessed with Star Trek", Dr Bhattacharya says space technology and exploration "blew her mind" when she was a little girl. "I watched the Viking landers land on Mars when I was 10 years old. It was a mind-boggling experience. I had pictures of galaxies on my wall. I still plan on going to space as a space tourist for my 50th wedding anniversary," laughs the rocket scientist.
She says her inspiration to launch "entrepreneurship in the space sector" came from the passionate belief that space study and collection of space data provides tremendous potential to help all people on Planet Earth. "After I'd done all that technical work in NASA, I got comfortable with the idea of risk," she explains.
Dr Bhattacharya says various inventions made to ease and improve space exploration efforts can now be seen in our homes. From Prolia, a drug for treatment of osteoporosis to mylar blankets used in rescue operations to present-day use of mobile phone applications with GPS technology, technologies discovered by space explorers are being put to everyday applications. "When we sent people to the moon, we didn't think computers would be inside peoples' hand bags. Farmers in India have all the data about their crops on their phone," she says. "The benefits for the average citizen are countless."
As the next generation of explorers prepare themselves for a journey to Mars and basecamps on the moon, Dr Bidushi says even though the number of open seats for space tourism won't be vast in number by 2030, there will definitely be many countries who will have access to the benefits of space technology. "In the future, there will be more jobs related to space. You will have studies in the field of space psychology, and space law and
medicine is going to be very critical. Astronauts today are physically-fit human citizens, but what about
average citizens? How does blood pressure medicine work in space?" asks Dr Bhattacharya. The possibilities are limitless!