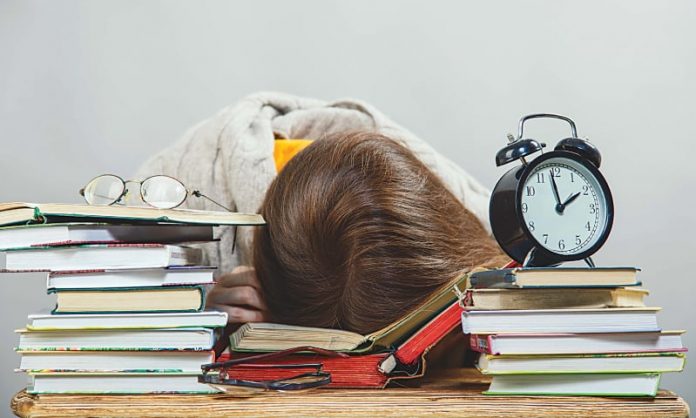 Educators have been crafting efficient methods to help students deal with the exam stress.
As thousands of students of Grade 10 and 12 under India's CBSE syllabus immerse themselves in the dreaded board examinations, schools in the UAE are going the extra mile to craft innovative strategies/techniques to help students combat exam anxiety.
With a total of 541 students appearing for board exams in Grade 12 and a total of 709 for Grade 10, the Indian High School (IHS) has crafted an innovative project to help de-stress its students. To create a heightened sense of optimism and contentment on the day of the exam, IHS has arranged pick and drop for all the board exam students from their locations to the school, where they were engaged in relaxation activities before boarding the bus again to go to their exam centre.
The activities included dolphin breathing technique in which students were asked to take a few moments to focus on breathing to exclude all other thoughts to help calm their mind, body and spirit. Each student will be given a 'de-stress' kit containing stress balls, fidget spinners, bubble wrap strips and magical spring on their journey to the exam centre. The school's Sheikh Rashid Auditorium was aromatised with candles, incense and oil burners to improve the health of the body and mind. Also, continuing the spirit of the Year of Tolerance, priests from different faiths were invited to bless the students before they left for the exam centre. Another surprise element that really touched the students was receiving personal messages sent by their parents.
As the students stepped out of the auditorium to go to their buses, loving pet dogs awaited them so that the students have some fun before the exam. On the bus ride to the exam centre, soft/soothing music was played for the students.
Speaking about the initiatives, Punit MK Vasu, CEO of IHS, said: "We care very much for the well-being of our students. We consulted our students and educators on different strategies to combat exam-related stress and anxiety. Based on their feedback, we thoughtfully devised a series of de-stress programmes that stimulate different senses of the human body – hearing, smell, touch and sight that are scientifically linked to relieving stress, fear and anxiety. I am delighted to see that our students were thrilled and much relaxed after engaging in the activities we had arranged for them. We are incorporating a holistic approach to happiness and emotional wellbeing, starting right from early years to Grades 11 and 12."
Arpita Jani, head of counselling at DPS Dubai, said the school has taken several steps to help the students in every possible way throughout the exams. "All the students have been given the phone numbers of teachers and cousellors and they are free to call to get any kind of support. As a counsellor, I call the students myself and provide emotional support to boost their morale. We also have group tutorial and remedial and enrichment classes to support students one on one. Just before the exams, the school principal gave students tips and a motivational talk that guided them to develop resilience and grit. We also have a school gym that we encourage our students to use to de-stress."
Michael Guzder, vice president – education at GEMS Education, said exams need to be taken in one's stride. He said: "GEMS Education teachers are available 24/7 to advise, counsel and give last minute clarifications and support to anyone who is beginning to feel the strain. Students and parents are encouraged to welcome that offer with open arms – knowing that your teacher is there to guide and teach you till the last minute before the examination."
Advising parents and teachers to be supportive, he said: "School administrators, teachers, parents and society at large, all need to reaffirm the fact that examinations are definitely very important, but it is as important to manage the stress during this time and find ways of helping eliminate the risk of burnout. The need of the hour is to be supportive and understanding, while encouraging students to give it their best shot. There is little to gain by being overly strict and discussing consequences of scoring less marks or even failing at this stage."