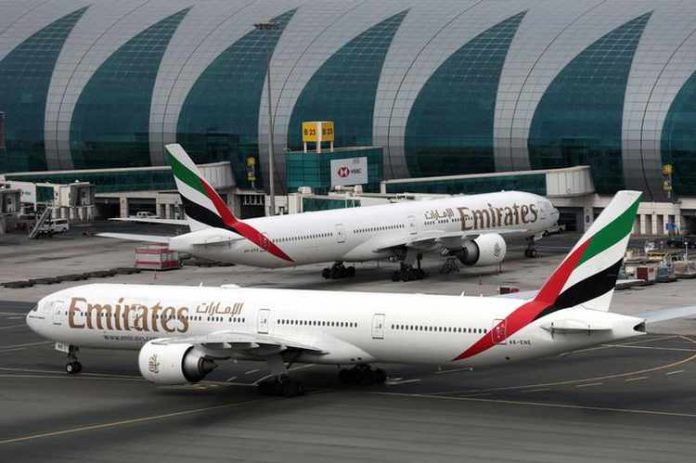 Customers are urged to contact their airlines directly for details on rebooking.
Dubai has suspended all flights to and from Iran, with the exception of Tehran, until further notice amid fears of rising number of infected cases of COVID-19.
A Dubai Airports spokesperson said the suspension is based on directives from the UAE's General Civil Aviation Authority (GCAA).
"All passengers arriving on direct flights from Tehran will receive thermal screening at the airport by Dubai Health Authority (DHA) and its Airport Medical Centre team," said the statement issued by Dubai airports. There are 9 daily flights between Dubai and destinations in Iran, excluding Tehran.
Customers affected by the suspension are urged to contact their airlines directly for details on rebooking.
Meanwhile, Bahrain civil aviation authority on Monday suspended all flights from Dubai and Sharjah airports for 48 hours over coronavirus fears. In a statement, Bahrain's Civil Aviation Affairs (CAA) affirmed that it is cooperating with authorities to take necessary measures in light of COVID-19.
There are 30 daily flights between DXB and Bahrain.
All arrivals to Bahrain International Airport suspected of infection will be tested and, if found to be suffering from the condition, are immediately transferred to designated centres for isolation and treatment, state news agency BNA reported.
On Monday, Bahrain, Kuwait, Oman and Iraq reported their first cases of the coronavirus as Gulf countries moved to stop an outbreak in Iran from spreading.
Following the 48-hour ban by Bahrain, Emirates Airlines has announced that passengers across the Emirates network holding tickets for final destination Bahrain will not be accepted for boarding at their point of origin.
"Passengers affected in Dubai will be offered flights to Dammam, KSA if applicable, or a return flight to journey start point if holding return tickets," the airline said in a statement posted on its website.
"Affected customers should contact their travel agent, or Emirates office for rebooking options or refunds," the airlines said. EK837/838, EK839/840, EK833/83, EK835/836 are the Emirates flights cancelled to Bahrain.
Following heightened concerns about the rapid spread of the new coronavirus or COVID19, the UAE has banned its citizens from travelling to Iran and Thailand where new outbreaks have been reported. The UAE has already announced 13 cases of the coronavirus.
UAE's Ministry of Foreign Affairs and International Cooperation issued a statement on Monday detailing a travel ban to the two countries.
"In light of the UAE's efforts to monitor and contain the spread of the new coronavirus, COVID-19, and in the interest of general public safety and health, the Ministry of Foreign Affairs and International Cooperation has issued a travel ban, calling on all UAE citizens to not travel to Iran and Thailand at present and up until further notice," read the statement.
UAE citizens currently in these countries are requested to contact the UAE Embassy or the Ministry's call centre on 800 44444, and register on the ministry's 'Tawajudi' service.
UAE's Ministry of Health and Prevention also issued a fresh set of guidelines on Monday towards the care and treatment of suspected COVID-19 coronavirus cases.
Now, patients who have returned from China, Hong Kong, South Korea, Iran, Japan, Singapore, and Italy presented with upper or lower respiratory symptoms 'with or without fever' will need to be placed in isolation. Earlier, only patients with a travel history to China were tested for COVID-19.