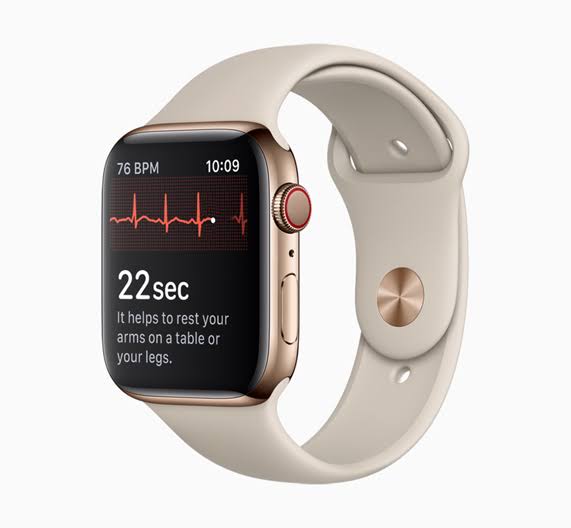 Now, you can take an electrocardiogram (ECG) right from your wrist, as the new ECG app on Apple Watch has been approved by the UAE's Ministry of Health and Prevention (Mohap) as a medical device.
The ECG app, which is available on Apple Watch Series 4 or later, has been released in the UAE with the next software update for iOS 14 and watch OS 7, Apple announced on Thursday.
The tech giant has also launched the Mohap-approved irregular rhythm notification feature on Apple Watch Series 3 and newer models for users in the country.
While the ECG app captures users' heart rhythm the moment they experience symptoms like a rapid or skipped heartbeat, the tech giant has reiterated that the feature should not be used for a conclusive diagnosis on any heart-related issue.
Such data should instead be used for better health awareness, Dr Sumbul Desai, Apple's vice-president of health, said
"You now have the ability to take snapshots of what's going on with your heart as you live your everyday life, so…when you go to your doctor, you have more information. We are confident in the ability of these features to help users have more informed conversations with their physicians."
'It can possibly save one from stroke'
The ECG app 1 and the irregular rhythm notification feature 2 checks for heart rhythms in the background and sends a notification if atrial fibrillation (AFib)-the most common form of irregular rhythm-is identified.
If left untreated, AFib could be one of the leading conditions that can result in a stroke, the second most common cause of death around the world.
The feature alerts users if an irregular rhythm is detected on five rhythm checks over a minimum of 65 minutes.
Dr Mohammed Fateh Arab, a UAE-based cardiologist, said: "AFib is very common among older patients, but young individuals as well. It's not always easy to catch AFib, depending on the type of condition."
He added: "Having a tool on your wrist that allows you to check on your health at any given point could potentially save that person's life from a stroke. It will also save health practitioners a lot of time trying to investigate the problem."
How does it work?
Electrodes built into the back crystal and digital crown on Apple Watch, starting from Series 4, work together with the ECG app to enable customers to take an ECG similar to a single-lead reading.
To take an ECG recording at any time or following an irregular rhythm notification, users just have to launch the ECG app on the watch and hold their finger on the 'digital crown'.
As the user touches the crown, the circuit is completed and electrical signals across their heart are measured. After 30 seconds, the heart rhythm is classified as either AFib, sinus rhythm, low or high heart rate, or inconclusive.
All recordings, their associated classifications, and any noted symptoms are stored securely in the Health app on iPhone. Users can share a PDF of the results with physicians.
Apple said the ECG app's ability to accurately classify an ECG recording into AFib and sinus rhythm was validated in a clinical trial of around 600 participants.
Meanwhile, the irregular rhythm notification feature was studied in the Apple Heart Study with over 400,000 participants. It was the largest screening study on atrial fibrillation ever conducted, also making it one of the largest cardiovascular trials to date, Apple said.