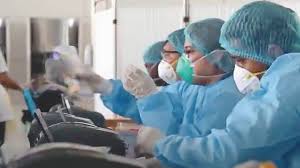 Dubai Airports enforces strict screening; places of worship install scanners.
Dubai Airports has implemented strict measures to screen passengers for coronavirus, the government has announced, while several organisations have shelved their scheduled events.
The Dubai Media Office on Monday shared a video of how passengers are screened at Dubai Airports. "In coordination with the Dubai Health Authority, Dubai Airports implements strict screening measures and conducts medical check-ups for passengers as precautionary measures against coronavirus Covid-19," the media office said in a tweet.
The video explained that every passenger arriving at Dubai Airports goes through a full non-intrusive thermal screening. Passengers from countries with high infection count are screened twice. Dubai Health Authority staff are at the airport 24/7 and are conducting tests right on the spot when needed, said the media office.
Hospitals in the emirate are also prepared to handle confirmed cases. The UAE so far has 21 confirmed cases of coronavirus and the country has announced many precautionary measures, including cancellation of the big-ticket event.
The UAE Ministry of Education on Monday announced the launch of a distant learning (e-learning) pilot project in some public schools as part of efforts to contain the spread of coronavirus and to fulfil the requirements of Emirati schools. The e-learning programme will be implemented in a few Emirati schools with the first and second phases beginning today and tomorrow, respectively.
All schools in Abu Dhabi have been told to increase cleaning procedures amid fears of the global spread of coronavirus. On their social media platforms, the Abu Dhabi Department of Education and Knowledge (Adek) stated the need for intensifying cleanliness as part of a list of precautionary measures that have been undertaken since February 2 to safeguard schools.
Religious institutions across the UAE are also taking stringent precautionary measures against coronavirus. From installing temperature scanners at the entrance of prayer halls to dissuading mass gatherings, several places of worship have taken steps to ensure the safety of devotees.
St Thomas Orthodox Cathedral said it has cancelled Sunday Bible classes for students for an entire month. A key ritual followed by the orthodox church – The Kiss of Peace where devotees shake each other's hands – have been suspended.
St Mary's Church in Dubai and St Michael's Chuch in Sharjah announced on Sunday that Holy Communion would no longer be given on the tongue – as is customary – as a precautionary measure to avoid physical contact.
Meanwhile, Surender Singh Kandhari, chairman of Gurunanak Darbar in Jebel Al, confirmed to Khaleej Times that temperature scanners would be installed at the gurudwara entrances and the parking lot today.