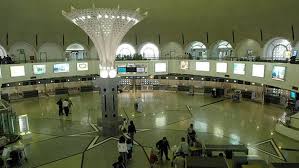 Journalists track the historic Vande Bharat Mission.
As part of the Vande Bharat Mission, an Air India flight with around 200 Indians from Sharjah will take off for Lucknow today. Passengers started arriving at Sharjah Airport as early as 10am on Saturday.
On Friday, 200 Indian workers who had lost their jobs and were in dire straits, flew home to Chennai. Air India Express flights repatriated over 360 distressed Indians on the second day of what is being called the largest repatriation effort in modern history. A total of 37 pregnant women and 42 medically ailing passengers were on the flight, according to the Consulate General of India in Dubai.
The Indian government on Monday had announced plans to begin phased repatriation of its citizens stranded abroad from May 7.
11:05am
Vandana Cecil is desperate to get back to her hometown Lucknow now. Her mother is a fourth stage cancer patient and she is counting hours before she can be with her mother, once the 14-day quarantine period is over.
She says, "I am counting hours, in fact, minutes, before I can see her. She is critical and on the ventilator now. I was visiting a relative in the UAE and little did I know that I will get stuck here"
10:55am
Sunil Kumar had come to the UAE in December 2019 to look for a job. He is leaving for Lucknow as he has run out of money.
10:45m
Sandeep Singh, along with his wife and 18-month-old son, is forced to leave the UAE for good. Sandeep, a resident of Sharjah Industrial Area II, used to work as a software engineer. But due to the unfortunate turn of events triggered by Covid-19 crisis, he had to wind up everything.
He says: "It was getting difficult to sustain my family without a job. We are facing severe financial crisis. I also have ailing parents back home and we better go back to Gorakhpur from Lucknow and take care of them and look for a job in India. When the situation improves, I'll try coming back to the UAE."