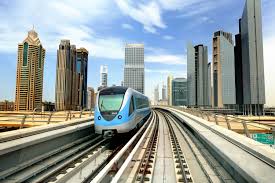 RTA chief Al Tayer and Al Hai, Deputy CEO of Dubai Airports, reveal how they've comprehensively and diligently adhered to government protocols during the pandemic.
UAE public transport usage has dropped by 70 per cent following the Dubai government's concerted and comprehensive preventive measures to curb the spread of Covid-19, it emerged on Thursday.
The measures have been implemented under the guidance of His Highness Sheikh Hamdan bin Mohammed bin Rashid Al Maktoum, Crown Prince of Dubai and Chairman of The Executive Council.
They have been followed up by His Highness Sheikh Maktoum bin Mohammed bin Rashid Al Maktoum, Deputy Ruler of Dubai and First Deputy Chairman of the Executive Council of Dubai.
They are resounding proof that the UAE's counter-pandemic 'Stay Home' initiative has been working.
The measures led to the number of daily public transport users decreasing from 1,300,000 to 400,000, a 70 per cent drop, according to Mattar Al Tayer, director general of the Roads and Transport Authority (RTA), who is member of the Crises and Disasters Management Higher Committee in Dubai.
"The procedures have been going as per the guidelines, given by Sheikh Mansour bin Mohammed bin Rashid Al Maktoum, Chairman of the Supreme Committee of Crisis and Disaster Management. All the precautionary measures were taken in coordination with the Dubai Police to ensure the safety of the metro users.
"In coordination with transport security, all the health measures and protocols were taken in cooperation with the Dubai Health Authority."
Metro passengers dropped from an average of 643,000 daily passengers to 130,000, he added.
Al Tayer was speaking at a remote press conference organised by the Government of Dubai Media Office (GDMO) in collaboration with Dubai TV.
He and Jamal Al Hai, Deputy CEO of Dubai Airports, answered a series of questions from senior Arabic and English media figures in the UAE.
The media interaction, broadcast on Dubai TV channels, provided the latest updates on the Covid-19 situation in the emirate and measures taken by their organisations to support Dubai's efforts.
Al Tayer pointed out that part of the support the RTA has been giving to the health sector is providing taxi and bus services to those infected with Covid-19.
"We have also extended logistics support by providing transport services for delivery companies to deliver groceries and essential items to households. That was a much-needed, additional service for the public and the families and it has made their life easier.
"There was a huge demand for delivery services, so we stepped in to provide logistical support to Union Coop to give you an example."
The RTA follows international best practices in managing its public transport services and passengers, it was revealed during the press conference.
It follows the guidelines of the International Association of Public Transport (UITP) for public transport operators and passengers to safeguard public health amidst the pandemic.
For example, the RTA has adopted strict measures to protect both drivers and passengers in its taxis and limousines.
All drivers wear masks and gloves and regularly use sterilisers. Their temperatures are checked at the beginning and completion of shifts.
RTA also conducts intensive sterilisation of its entire fleet of vehicles.
Passenger capacity on buses have reduced from 70 to 30 since the start of the pandemic.
In other measures, only three people including the driver are permitted to travel in a taxi. Plastic separators have been installed in all vehicles to create a protective barrier between the driver and passengers.
All public transport passengers are required to wear masks.
All metro trains are thoroughly sterilised at the end of each trip.
Furthermore, a total of 79 trains are sterilised daily after the close of operations.
Apart from this, 47 metro stations are comprehensively sterilised on a daily basis.
A team of 700 workers are devoted to implementing these measures.
Signage on safe practices and etiquette to combat Covid-19 have been prominently displayed on public transport and stations while preventive guidelines have been distributed widely among passengers.
Meanwhile, Al Hai said that since the pandemic's outbreak, the number of cargo flights provided by Emirates airline has increased.
He said: "Such flights have increased by almost double. The passengers planes were also used as cargo planes.
"We moved the cargo village from Al Maktoum Airport to Dubai International Airport to enhance the capacity and support for such operations. New routes have been opened to new destinations for import operations.
"There was no delay in securing all essential goods. The government has also provided extra warehouses for food, medicines and all the essentials. We have enough food stock and medicines."
Currently, the airport services 110 cargo flights daily run by 12 airline companies including Emirates and flydubai, he said.
Al Hai also spoke about the operations conducted to repatriate stranded passengers to their home countries.
Over 37,000 people have so far been safely repatriated to their home countries, he said.
Strict preventive measures were taken before repatriation operations were conducted.
In collaboration with the National Emergency Crisis and Disaster Management Authority (NCEMA) and embassies in the UAE, arrangements were made to ensure the smooth and safe transportation of passengers.
The strong relationships and coordination between Dubai Airport and other international airports enabled the efficient management of flight operations.
Based on requests from some countries, Dubai Airports continues to facilitate passenger flight operations to some destinations.
However, most of the world's airports are closed and scheduled flights will not be resumed before mid June or early July.
Al Tayer stressed that RTA is acutely aware of the pressures faced by local businesses due to the pandemic and is currently evaluating further measures to support them, particularly in the post-pandemic period.
As part of Dubai's significant investments in infrastructure, RTA has developed strategies and plans to develop its transport offerings over the next 15-20 years.
Work on road projects is continuing to take place, Al Tayer pointed out.
RTA officials tour its road projects virtually to review progress of construction works.
Strict preventive measures are in place for labour camps and transportation of blue-collar workers based on the guidelines of the Ministry of Health and Prevention.
The RTA will conduct a thorough analysis of the impact of the pandemic to decide its future course of action.
"Life after Covid-19 is going to be different. Plans will be changed based on the impact of the current crisis and they will be revised every year," the RTA chief said.