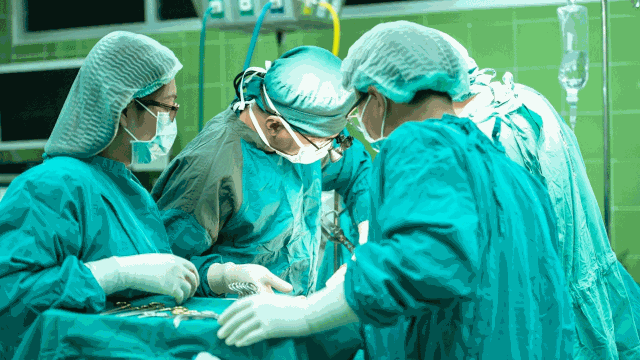 The child's mother said her daughter got the earring from a drawer and put it into her mouth.
A three-year-old Emirati girl had to undergo an emergency operation after swallowing a gold 'Hello Kitty' earring.
To her family's relief, doctors at the Sheikh Khalifa Medical City (SKMC) managed to remove the piece of jewellery from her stomach.
The child's mother said her daughter got the earring from a drawer and put it into her mouth.
The little girl couldn't stop crying, complaining of pain and suffering from shortness of breath, she added.
By the time they reached the hospital, the gold earring was already in the child's intestines, according to Dr David Root, a consultant for paediatric gastrointestinal tracts at the SKMC.
He said a team of doctors carefully examined the girl and was able to remove the earring from her abdomen through a lifesaving operation.
Doctors at the hospital said they have been encountering quite a number of cases of children swallowing small objects, including coins, small batteries and magnetic balls.
Recently, they saved the life of a 13-month child who swallowed seven magnetic balls, each measuring three millimetres in diametre.
The surgical team had removed the magnetic balls that were already starting to cause cracks in the intestines of the boy. It took doctors four hours to do the surgery, but the toddler was later discharged in good health.
The child's parents said the boy might have picked the magnetic balls from the floor and swallowed them, without anyone noticing as the family was moving to a new place.
Extra caution urged
Among the small objects that kids commonly swallow are coins, batteries and magnets, Dr Root said. "These objects pose a significant risk and cause injuries to the digestive system of a child."
Incidents of children swallowing objects at home can be avoided by being cautious and strictly monitoring their movements, he added.
Dr Mohammed Miqdadi, a consultant and head of the department of paediatric gastroenterology at the hospital, warned against leaving coins, small metallic objects, batteries, pins and magnets within children's reach.
"If parents suspect that their child has swallowed an object, they should immediately visit the nearest emergency center," said Miqdadi.
He added that from January 2016 to December 2018, the children's department at the SKMC has received at least 258 children (from six months to 18 years) who ingested coins, batteries, magnets and other objects.
Doctors said swallowing coins, batteries, pins and magnetic balls leaves burns and infections in the oesophagus or intestines and requires an urgent operation.