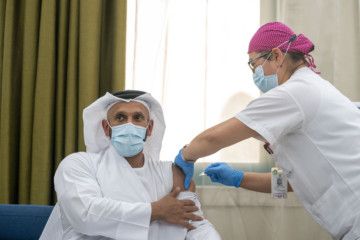 Volunteers can still register through the portal www.4humanity.ae.
The world's first phase III trials of an inactivated vaccine for Covid-19 in the UAE have reached the 15,000 volunteers target in less than a month with individuals from 107 nationalities participating in the programme.

Managed by G42 Healthcare in partnership with the UAE Ministry of Health and Prevention (MOHAP), the Department of Health – Abu Dhabi, and Abu Dhabi Health Services Company (SEHA), the trials successfully screened and vaccinated 15,000 volunteers with the first of two vaccine shots they are given during the process. The inactivated vaccine has been developed by Sinopharm CNBG, a leading vaccine manufacturer.

Volunteers can still register through the portal www.4humanity.ae.

Moving forward, volunteers are entering the next stage, receiving their second shot, and continuing to undergo regular monitoring and health checks, with full ongoing support provided by the health services to ensure their wellbeing.

Since launching on July 16 in Abu Dhabi, the #4Humanity trials captured the imagination of the UAE's multinational population eager to help fulfill the UAE leadership's commitment to overcoming the pandemic through a global collaborative effort.

The volunteers encompass 107 nationalities and diverse demographics, including more than 4,500 Emiratis. Over 140 doctors, 300 nurses, and much more administrative and technical support staff are helping to facilitate the vaccine trial.