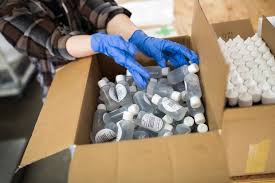 Few days back, the municipality had seized up to 700 fake masks.
The civic body in Dibba Al Fujairah has ordered the closure of three pharmacies for unreasonably increasing the price of hand sanitisers.
Eng Hassan Salem Al Yamahi, Director General of the Dibba Al Fujairah Municipality, said the erring pharmacies have violated the circulars regarding Covid-19 precautionary measures.
"The erring pharmacies were spotted during the inspection raids carried out in all parts of the city," Al Yamahi said.
"The erring institutions shall be penalised with zero tolerance," he warned.
"More inspection campaigns will be launched round the clock to ensure adherence to set rules and preventive measures."
Al Yamahi urged the public to report any violation they come across to the municipality's emergency number 092443399.
"All members of the society should be up to the responsibility given the current situation and health challenges," he said.

Complaints can also be reported to the call center on the toll-free number 80036. "You may also report the same via the municipality app 'smartFUJAIRAH'."
Few days back, the Fujairah Municipality had seized up to 700 fake masks.
"All the masks seized were of unknown origin, did not meet the set standards in the UAE, and pose a risk to public health and safety," he added.