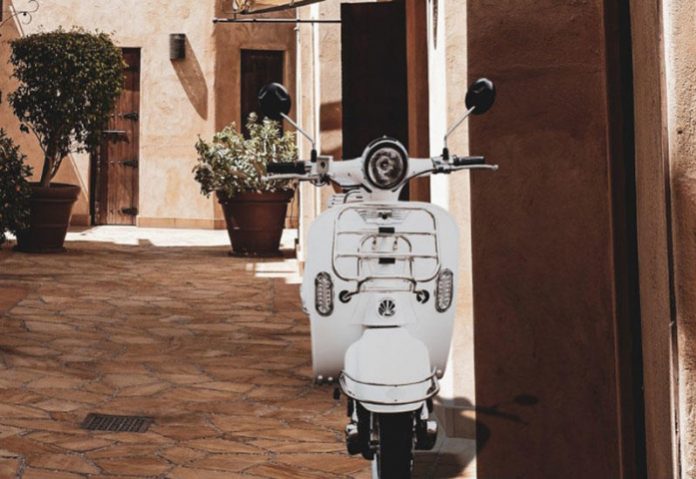 Founder Adam Ridgway aims to expand operations in Saudi Arabia, Egypt, Bahrain, Oman and Kenya in the coming months.
An avid two-wheeler driver, Adam Ridgway's passion is to design an electric bike that is stylish, eco-friendly, affordable and most importantly sturdy so that it can be used daily. That led him to start One Moto –an electric bike-maker in Dubai.
After working on his idea for more than three years, Mr Ridgway finally rolled out the first electric bike of One Moto on the UAE roads in October, last year.
"Not many people are talking about electric two-wheelers or bikes at this moment… it seems they are only concerned about cars," Mr Ridgway, 38, tells to reporter.
"Being a two-wheeler driver for 22 years, nine years in Dubai, I wanted a ride that was no less than any other petrol bike. It should be strong, durable, fast and sustainable… [and] One Moto was born out of this personal drive."
Starting at Dh14,485, One Moto bikes target daily commuters going to offices or shopping and delivery companies. Two people can comfortably sit on these bikes that can go up to the maximum speed of 85 kilometres per hour.
Mr Ridgway first got the idea to start One Moto when he was looking for a sustainable two wheeler but was unable to find any.
After working closely for 16 months with different partners and regulators, such as Emirates Authority for Standardisation and Metrology (ESMA), One Moto registered its product with the Roads and Transport Authority of Dubai in June, last year. The company made its first sale to a Fujairah resident in October.
"The first vehicle was sold online without any marketing or advertising. We did not believe that our first order was real until the money hit our account," says Mr Ridgway.
Globally, electric two-wheeler market is expected to grow at a compound annual growth rate of nearly 4.6 per cent, reaching $6.9 billion (Dh25.32bn) by 2024, from $5.3bn last year, according to New York-based researcher MarketWatch.
"This market is still in its initial stages in our region, but I believe Middle East, especially the UAE, will have a good share in the global industry in the next four to five years," notes Mr Ridgway.
After registering his products with RTA, Mr Ridgway and his staff first tested them in different weather conditions on Dubai roads to ensure their sustainability before opening for actual sales.
Once fully charged, One Moto bikes can run up to 150km. Battery life is 50,000km and the vehicles require no frequent servicing, the company claims. They come with a swappable battery that could be changed within 30 to 40 seconds when needed.
Drivers will require a normal two-wheeler licence before driving One Moto vehicles in the UAE.
Till now, the company has sold 14 bikes in the UAE and it aims to raise this number to more than 23,000 in the region by 2023.
"We have sold our vehicles to Jumeirah hospitality group and also signed pacts with leading food delivery operators," says Mr Ridgway, without naming them.
One Moto, which also has a consultancy team in the UK, is targeting the UAE's delivery business industry.
Currently, more than 12,000 petrol delivery motorcycles move on the UAE roads and they produce more than 16,000 tonnes of carbon emissions per year, One Moto said in its white paper released last year.
The food delivery market in the UAE has "grown from $50 million to $450m in the past five years" and this has increased the "demand and supply for commercial two-wheeled vehicles", said Mr Ridgway.
"We are in talks with big food and last mile delivery companies such as Careem, Talabat, Carrefour, Deliveroo and Uber Eats. Response is great and we have signed few contracts that we will announce in the coming weeks," says Mr Ridgway.
After establishing itself in the UAE, the company aims to expand its operations to Saudi Arabia, Egypt, Oman, Bahrain and Kenya in the coming months.
"Though we have an office in the UK but we market our firm as a home-grown business [in the UAE]. It is also the first and only ESMA and RTA approved electric vehicle company in the emirates… [that] puts us way ahead of our competitors," said Mr Ridgway.
Completely self-funded till date, One Moto is not too concerned about profits in the near future and is more focused on scaling its business.
It is also looking forward to raise fresh capital in the range of $3m to $10m in the next few weeks. The company is in touch with five to six investors in the UAE, Saudi Arabia, the UK and India.
"We are already established and manufacturing is on in full swing. We need new capital only if we want to expand," said Mr Ridgway adding, "We need to raise $3m to fuel our GCC growth plans, while $10m is required for global expansion."
The company is interested in investors who share the "same goals and are willing to work towards environment sustainability."
"We are not running after profits and are more focused on scaling and meeting customers' expectations. We have declined few potential offers as investors were inclined towards making quick profits… we are not in that race," adds Mr Ridgway.
One Moto, which has a workforce of four employees in Dubai, is currently manufacturing in China but will soon start producing vehicles in the UAE.
"Currently, we are procuring components from different sellers and assembling vehicles at a master plant in China before shipping them to the UAE. We will open a local facility in 2022 and become the first UAE firm to produce electric vehicles on its own turf," says Mr Ridgway.
The company is aiming to capture up to 20 per cent share of the UAE's delivery market in two years and raise it to 100 per cent in in the next three to five years.
Taking cues from another UAE start-up Cafu, the region's first fuel-booking application, One Moto will soon offer battery charging and replacement facility at the doorstep of the users.
In another survey that polled nearly 30 delivery operators in the UAE, One Moto found that more than 50 per cent of them were worried about environment while almost all wanted to cut overall costs.
"Our vehicles address all of their concerns," says Mr Ridgway.
"Petrol-run motorcycles are six times more harmful to the environment than a sports utility vehicle. If not maintained well, it will be 50 times more harmful."
Last month, One Moto joined forces with the Dubai arm of New York-based Rochester Institute of Technology to develop local talent and conduct research in the fields of electric vehicles, hybrid vehicles, renewable energy and sustainability.
Besides selling online, One Moto has collaborated with Umm Suqeim-based Duseja Motorcycles for sales and aftersales services.
Q&A: One Moto's founder Adam Ridgway
Who is your role model?
There are so many but the first entrepreneur who comes to my mind is Elon Musk. I admire his self-belief and love for his brands. At one point of my entrepreneurial journey, I really want him to recognise our company and the efforts that we are making to disrupt the two-wheeler industry. I am also a big fan of Jeff Bezos' attitude and Richard Branson's humility.
How do you look at the future of electric vehicle industry?
If you look at the overall auto market, so many JVs (joint ventures) are happening and this trend will also prevail in the electric vehicle industry. In the next ten years, we will not have many car brands but we will see more mergers… some brands will specialise in hardware, while others in software.
If you could change one thing in your entrepreneurial journey, what would it be?
If given a chance, I don't want to make costly mistakes that I committed in the past as an entrepreneur. I have learned a lot over the years. I don't mind committing a mistake, whether myself or by my staff, but we should know how to minimise the financial loss.
Are you on a hiring spree?
We are looking for new talent but I will not hire a huge team. My philosophy is to hire top people in their industries, generally more skilled than me to ensure best results. I prefer to work on a distributor model to contain overheads costs.
Are you open for an exit if you get a good offer?
No. I am fully dedicated to my idea and I cannot think of exiting at any point of time. There will be mergers or new acquisitions in the coming years.
Why you chose two-wheeler and not car?
I am a two-wheeler enthusiast so it was an obvious choice. It brings me in direct contact with the nature and there are no distractions such as music, coffee or a sandwich in your hand.
What will be your next move after electric two-wheelers?
We are currently working to develop a solar-powered motorcycle that can be used for delivery. But it will be for African market as I aim to expand One Moto's reach to the world's less-financially sound territories. The idea is to provide them a cost-effective and sustainable transport solution.
Company Profile
Company name: One Moto
Started: 2019
Founder: Adam Ridgway
Based: Dubai
Industry: Technology and energy
Initial investment: Self-funded undisclosed amount
Future plan: Looking to raise $3m to $10m
Total sales: 14.