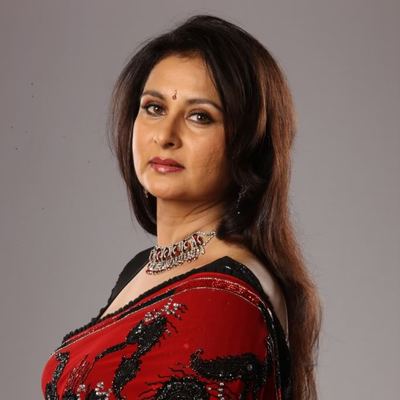 Ahead of her play in the city Poonam Dhillon tells her thoughts on whether women can really do it all and how theatre is a pure form of acting.
Yesteryear Bollywood star Poonam Dhillon has had a career graph most would envy. Winning the Miss Young India title as a 15-year-old opened doors to modeling; her beautiful face splashed on magazine covers also landed her a role in Trishul. Then came Noorie in 1979, which made her a star overnight. Some of her most iconic roles were in movies like Yeh Vaada Raha (1982), Naam (1986), Judaai (1997) and more. With 10 years of theatre experience behind her Dhillon is now bringing her play The Perfect Wife to Dubai to enthrall audiences with her onstage charisma and talent.
The Perfect Wife is about the skirmishes between a husband and wife, who belong to two different cultures of India. The satirical play that also stars Suraj Thapar shows how a woman can be both a homemaker as well as a career woman. We interviewed the veteran actress ahead of her visit to the city to get an insight about the play.
You've had a very colourful career since winning the Miss Young India title and going on to doing multiple movies and TV shows. Looking back is there anything you'd do differently?
I really didn't think I would be making a career in movies after my studies. And because of that I think I wasn't really mentally prepared. If I had to do things differently I would say I would have definitely wanted to train myself a little more and be better equipped to handle all the requirements which the film industry has like voice, language, dancing and all of that.
I was very shy and unexposed because I had gone to an all-girls convent school. So I would say I was very inhibited in the initial years. I think if I had known I was going to make a career in films I would have done more theatre and taken part in plays.
How has your experience doing theatre been like?
I sometimes joke about how normally people do theatre and then struggle and come into television and then struggle to achieve movies and I've kind of done things in reverse; I did movies first and then I wanted to change my lifestyle. With movies you have absolutely no time boundaries; you could have a night shoot and you could be required to travel. So I started television at that time and with television I could control my timings.
I wish I hadn't left it for so long because I found it extremely gratifying and enjoyable. And because of years of experience in films and then television I found it very simple. It was just the initial hesitation of 'How will I remember 90 pages of dialogue?!' With movies you have one page of dialogue and you have retakes but theatre has no such options. So that was just a fear in the beginning which of course after the first play I overcame and I thoroughly enjoyed my first experience.
What attracted you to The Perfect Wife?
After my first play, The Perfect Husband, people were constantly asking me, "You've done The Perfect Husband. Now when will you be doing The Perfect Wife?" It was initially a joke but after being asked that a couple of times I thought it was something we could actually do.
Can you tell us a bit about the play and the message it conveys?
It's a romantic comedy with a lot of humour. It's about a husband and wife where she's the perfect wife who's actually educated but somehow her husband always wants her to look pretty, wear nice clothes and look after the house.
It's about women who are always only taken for their looks and people somehow don't want to look beyond their appearance.
The basic message is to not pigeon hole your women to just being something for decoration.
What are your thoughts on the relevance of plays in today's world where there's an abundance of fast paced content in the form of web series, TV shows and movies that seem to attract the younger generation?
We have definitely evolved over time but theatre still has its own place and a live performance has its own kind of audience. Web series and television series need your attention for weeks and months if you really need to get to the crux of the matter. When you're in the comfort of your house you have distractions and interruptions whereas in live theatre you have the concentration of people and they get very engrossed in the whole performance.
So I think it's a different format altogether and for an actor it is much more gratifying and enjoyable because you know the audience is with you.
Theatre is something we should constantly endeavour to do and encourage because that art should not die. It's a pure form of acting.
There's so much talk around the topic of 'if women can really do it all' from balancing work, home life and raising a family. What are your thoughts on the matter?
That's what our play slightly focuses on. Women are really capable of doing that because God has given them that intrinsic multitasking skill. Most of the women have that and because they are a little more sensitive and I would say aware of what goes on around them they are able to do a better job even at work with their sincerity and meticulousness and dedication. In today's time most of the woman are trained to be professionals from the time they're in school. So they are very well versed and able to manage their work as well as their home. I think God has given women a little edge of tolerance and a little more of multitasking skill.
What advice would you like to give a woman trying to juggle work and home life?
Make sure your family supports you. Because as women we tend to be more sacrificial. So we need to draw our boundaries and ask for help when we need it. Most women don't ask for help and they get stressed which reflects on their behaviour and moods as the stress factor becomes way higher. And I think that affects relationships and marriages.
What are you most looking forward to during your Dubai visit?
I love Dubai for so many reasons! Every time I visit there's something new to see. It keeps evolving and growing. Of course I love the restaurants there and I look forward to eating from nice places. I'm also looking forward to meeting my friends, but most of all I'm looking forward to a good show which people will enjoy. For me that is of primary importance right now.
Event details
The Perfect Wife will be staged at Jumeirah Beach Hotel on October 11 at 6:30pm. Tickets on platinumlist.net