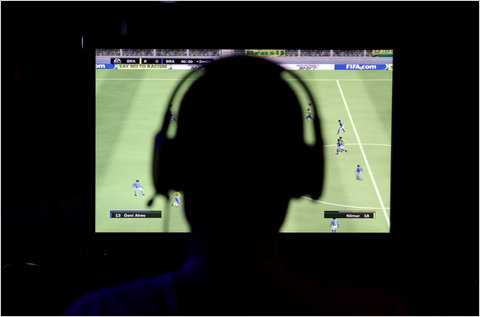 The 19-year-old gamer regularly plays for 12 to 24 hours straight.
A 19-year-old gamer from Pennsylvania, is making over $200,000 (Dh700,000 approx) a year playing Fortnite in his father's garage turned into a high-tech gaming centre.
Alex Benabe regularly plays for 12 to 24 hours straight in the swanky garage containing $50,000 worth of equipment. Benabe live-streamed his game when he once played for 37 hours straight, stopping only for bathroom breaks, reported.
The teenager plays Fortnite Battle Royale in which 100 players brawl in a free-for-all fight to the death online. He goes by the name 'Destroy' online and is currently prepping to compete in the Fortnite World Cup in July, a tournament with a $30 million prize pool.
"I've been playing games since I was seven-years-old. To be honest I didn't have a plan B. I knew I didn't want to go to college and I knew I didn't want to get a job," Benabe said. Benabe earns a $10,000 to $12,000 a month on Twitch, a top live streaming platform for gaming.
"My first game was Call of Duty: Modern Warfare. I made my first bit of money when I was thirteen. My career really started in 2018. I got very serious around then and was making $40,000 to $50,000 a year," Benabe. He also earns from playing to live audiences in stadiums and from deals with the gaming software company Epic Games.
"I made around $60k last year from Epic Games for performing well in certain matches," said Alex, who also has a contract with the professional esports organization Luminosity Gaming. "Unfortunately, Luminosity has a nondisclosure policy, so I can't tell you exactly how much I make, but their offer was very aggressive," he said.
The teenager's father and manager, Manny Benabe, 41, said that his son saved nearly all the money he makes. "I also want to grow my brand and do YouTube videos and blogs. When it's time to switch games, I'll find a game that my fans like," said the teenager adding that there is also a physical toll that can come with professional gaming. "There are times when my back hurts. I get active and stay in shape to counteract the stress of sitting in a chair all day. I hit the gym four to five times a week and have a personal trainer," he added.
Benabe also revealed his struggle with ADHD in his growing up years. "Growing up I struggled, always getting in trouble and getting in fights. I was super hyper and had lacked self control. When I started taking gaming more seriously, I wanted to stop taking my [ADHD] medication," he said.