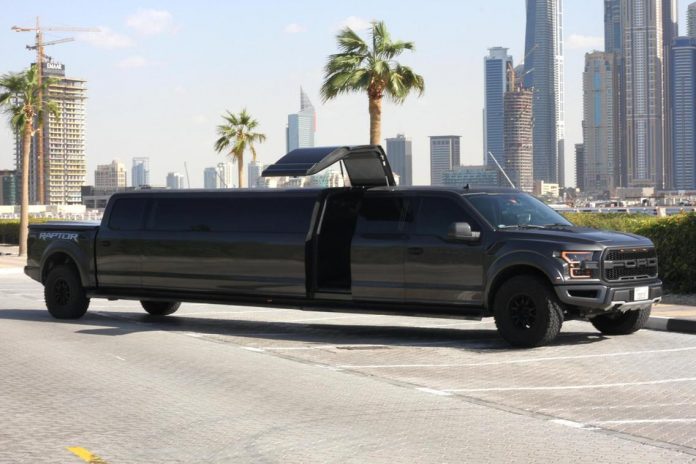 The elongated US truck is now available for hire in Dubai, putting it head-to-head with its equally extended Japanese cousin which arrived in December.
The tyre covers are off – the stretch Nissan Patrol, which arrived in Dubai in December 2019, now has a heavyweight competitor in the guise of an equally elongated Ford Raptor.
The new arrival at Dubai Exotic Limo has just poked its sieable bonnet out on the streets of the UAE's biggest city and, like its rival, it's a limousine you can rent out by the hour, should the need for an enormous party bus that's rather more stylish than a cattle truck arise.
The Raptor, which has a 24-passenger capacity, has been specially customised in the US by a stretch specialist.
Aside from the body modifications, it has a leather interior and a high-tech sound system, as well as privacy partitions and enhanced air conditioning. There's a 42-inch TV in there as well, plus a DVD player and fully stocked bar.
The Raptor, Patrol and their equally corpulent cousin, the GMC Black Panther limousines, are all available for hire at Dh799 per hour (or Dh6,500 for the entire day).
If that's a bit rich for your pocket, though, you can get a Hummer H2 O for Dh499 or a Dodge Charger for Dh399. The cheaper ones are a bit smaller but there should still be room enough for a good few friends and anyone you fancy picking up en route to your destination as well.