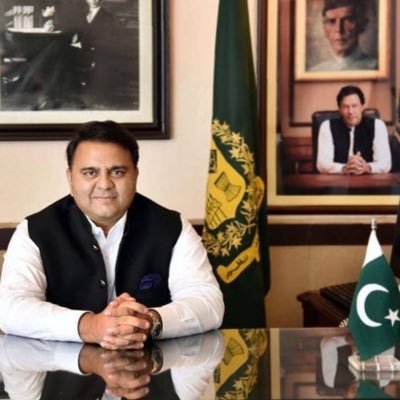 In July 2019, Chaudhry had announced that Pakistan will send its first astronaut to space in 2022.
Pakistan is looking at increased cooperation with the UAE in the field of space, museums and precision agriculture, said a senior official on Sunday.
"We are keen to develop a museum and future strategy, therefore, we are working closely with the UAE on these issues. We would also like to enhance cooperation in the space sector with the UAE as it has just opened up a space university," Fawad Chaudhry, Pakistan's minister for science and technology, said.
"I would like the UAE space university to sign MoUs with Pakistani universities as we plan to send our first manned mission in space in 2022 and we want UAE's cooperation in the mission."
In July 2019, Chaudhry had announced that Pakistan will send its first astronaut to space in 2022. The UAE sent its astronaut Hazzaa AlMansoori to the International Space Station last year, becoming the first Arab nation to achieve this feat.
Besides space exploration, the minister said their country is also looking at teaming up with the Emirates when it comes to precision agriculture.
"The UAE is one of the biggest investor in agriculture. We can offer land and expertise to Dubai companies who want to come to Pakistan and invest in precision agriculture. We can have lucrative business deals for those UAE companies," Chaudhry said.
The minister noted that he is prioritising business-to-business deals to expedite the process of increased investments between the two countries.
Reviving film industry
Chaudhry also attended Pakistan International Screen Awards (Pisa) held in Dubai on the weekend.
Highlighting the soft image of Pakistan through such events, the minister pointed out that the film, drama and cinema industry is reviving fast in the South Asian country.
He sounded quite optimistic about the revival of country's entertainment industry as more films and TV serials are being produced in the country.
"Till 1969, Pakistan was not just one of the biggest producers of films and we had around 3,000 cinema screens. Unfortunately, after 1971, and especially due to Afghan war, the cruelty of geography hit us hard. In 2005, we went to zero film-making which showed the rapid decline of the industry.
"We revived it and we now have 200 cinema screens across the country. Films are back in business," Chaudhry said.
Dubai hosted the inaugural edition of Pisa, which saw a strong turnout of the Pakistani diaspora and other South Asian community members. The recently concluded TV series 'Mere Pass Tum Ho' swept the award ceremony.
A large number of celebrities from Pakistan thronged Dubai for the event.
"We are happy that we had Pisa here in Dubai. People joined from all walks of life – not just from Pakistan. Members of other South Asian communities also joined in. I want to congratulate organisers for hosting such a mega event," Chaudhry said.
Back in the saddle
He noted that the country is witnessing revival across the whole spectrum such as entertainment, economy, sports, and society, following years of fight against extremism and terrorism.
"After a long war against extremism and terrorism, we are back in the saddle. We just resumed cricket in Pakistan after the 2006 attack on Sri Lankan team. Security has improved quite a lot and Pakistan cities are much safer now," he added.
He urged Pakistani expats to invest in technology, science, education, biotechnology and precision agriculture – "and to forget real estate as it is an old business".
The minister noted that the government is working on mechanism for e-voting of Pakistanis overseas.