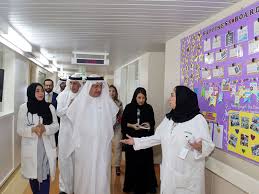 The 10th edition of Sharjah's prestigious annual breast awareness campaign also had a colourful start at the Sharjah Equestrian and Racing Club.
A cancer research centre will come up in Sharjah by mid-March, His Highness Sheikh Dr Sultan bin Muhammad Al Qasimi, Member of the Supreme Council and Ruler of Sharjah, has said.
Speaking at the flag-off ceremony of the 10th edition of the Pink Caravan Ride on Wednesday, Sheikh Sultan said the launch of the research and development centre is a part of the global efforts of his wife Sheikha Jawaher bint Mohammed Al Qasimi, and Founder and Royal Patron of the Friends of Cancer Patients (FoCP).
The 10th edition of Sharjah's prestigious annual breast awareness campaign had a colourful start at the Sharjah Equestrian and Racing Club.
Sheikh Sultan and Sheikha Jawaher flagged off the campaign. The nation-wide equestrian campaign organised by the FoCP will conclude in Abu Dhabi on March 6.
A group of 350 doctors and medical professionals, 150 riders and over 100 volunteers will be travelling more than 150 kilometres across the seven emirates, advocating the importance of regular screenings and early detection of breast cancer in successfully tackling the disease. The ride, which has adopted the slogan 'Plenty is not enough', aims to deliver over 10,000 free screenings across seven fixed clinics to citizens and residents of the UAE.
Sultan calls for combined efforts
"Society doesn't develop and grow without combined efforts," said Sheikh Sultan in his inaugural address. "We want to pass on to our children the values of volunteerism and community service. We want to tell our donors and supporters that their contribution of one dirham is worth one million when we put it in the hands of those who are tackling the increasing number of cancer cases in the UAE and around the world."
The Sharjah Ruler added: "On behalf of Sharjah, Sheikha Jawaher has led tremendous efforts to establish several centres dedicated to cancer research. Please thank her for her efforts," Sheikh Sultan concluded, thanking the Pink Caravan Ride's long-standing partners for their continued and growing support to safeguard the health and wellbeing of people in the UAE.
Addressing the ceremony, Sheikha Jawaher said: "When I run my eyes over this group of riders, doctors, volunteers and partners, who will lead efforts of the 10th Pink Caravan Ride, I see a reflection of every human and cultural value our Emirati society is built upon. I am sure that the hope and determination you carry in your hearts will forever safeguard our future. Our nation's continued progress is not based on material possessions, but an abundance of human wealth.
"Today, as the Pink Caravan Ride enters its 10th year, your ambitions haven't weakened. You have instilled awareness that wasn't there 10 years ago," added Sheikha Jawaher.
Stressing that the Pink Caravan Ride's work won't end until cancer is eradicated, she noted: "I urge all governmental and private institutions to collaborate and continue working for our homeland. I am pleased to announce that the campaign has a new partner and advocate, Sheikh Fahim Al Qasimi, Chairman of the Sharjah Department of Government Relations, who will be serving as special envoy."
Caravan Ride is a journey of life
Reem BinKaram, Head of the PCR's Higher Steering Committee, reaffirmed the campaign's vow to "continue our ride until our message of the importance of early detection to confront the dangers this disease poses to society, reaches every home, individual and institution in the UAE."
BinKaram emphasised that the breast cancer awareness campaign has accomplished three significant goals including heightening awareness in the UAE and offering free checkups to more than 64,100 people, which resulted in the detection of 75 positive cases. It also advocated for the creation of a national cancer registry to serve as a comprehensive and updated database, which was created by the UAE Ministry of Health and Prevention.
"We are not done yet," she said. "More people need to get checked and those who already do need to get their re-examinations done every year. The disease does not wait, and every minute during which it goes undetected becomes a decisive factor in the outcome."
Sawsan Jafar, Chairperson of the FoCP Board of Directors, said: "We have achieved many successes over the past nine years – among them was the permanent mobile medical clinic operated by the FoCP, which offers free high-quality screenings and checkups all year round. I thank everyone who has dedicated their time and efforts to the campaign's noble cause. Pink Caravan Ride reflects the true image of the Emirati society to the world."
Sawsan Al Madhi, director-general of the FoCP, said that though the Pink Caravan had been launched on Wednesday, the screening clinics were already started 10 days ago. "This year, the efforts have been doubled as more than 82 clinics were launched in various parts of the country with 350 medical experts. This year, we are targeting to screen 10,000 people. The genetic testing that was introduced last year will be continued."