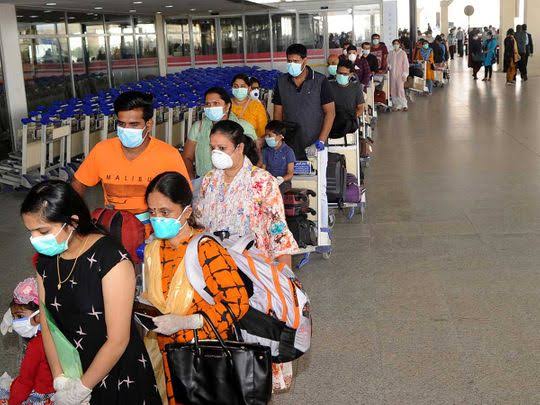 A team of expatriates hailing from India's coastal region of Konkan in Maharashtra managed to repatriate more than 200 stranded members from their community after numerous weeks of arduous efforts.
Known as United Konkan Group, this team came together as a unit after hearing the plight of their distressed countrymen. The stranded people were repatriated in three chartered flights in July.
"Many people from the region were stranded here and were desperate to return home. Some of them were on visit visas, others had medical emergencies while several had job issues and were in dire straits. Every person had a story to tell, and listening to their plight, I decided to put together a team to help provide them with moral and financial aid. After much coordination and talks with various authorities, we managed to organise flights for them," said Dilawar Dalwai, advisor to the Emirates Konkan Committee and organiser of the United Konkan team.
Members of the group, including Dalwai, Sabina Khot, Khalid Mukadam, Nazir Hurzuk, Naushad Patel and Mukhtar Palekar got together to make the repatriation journey possible. All this was done in coordination with the Consulate-General of India (CGI), Dubai, Government of Maharashtra, CityOne Tourism & Travel, and the huge support of Rahul Tulpule of Gulf Maharashtra Business Forum (GMBF). Some Konkan community members like Junaid and Sabina Shaikh came forward to sponsor several tickets for needy people.
Abhijeet Shinde, one among the repatriated, had come to work in a Dubai hotel, but never got the job because the hotel had closed down due to the pandemic. His earlier flight was cancelled and he had run out money. Shinde was frustrated and desperate to go home. He didn't know what to do and contacted one of the Konkan members who arranged for his hotel stay and repatriation.
"Accept my gratitude. You have no idea how much you have helped me. Whatever you have done during this difficult time for me is highly appreciated. I don't know what I would have done without the Konkan team," wrote Shinde after reaching Mumbai.
Other cases include a woman who had come to the UAE on a visit visa in search of a job, leaving her children back home, only to get stranded due to lockdown. Another woman had lost her husband due to Covid-19 in Dubai. She didn't want to stay here and wanted to return to India.
In another case, a pregnant woman's husband had lost his job in Dubai and the couple could not afford the medical expenses.
Rahul Tulpule, vice-president of the GMBF, who has been very active in the repatriation of distressed Maharashtrians in the UAE, offered support to the Konkan team. "There was a real need to open up an alternate channel to repatriate stranded Indians. We explored various options and the possibilities to run private evacuations with the Government of Maharashtra and India. Until now, we have repatriated about 1,200 people," said Tulpule.
Tulpule is now in the process of organising reverse repatriation flights for expats who are stranded in India.