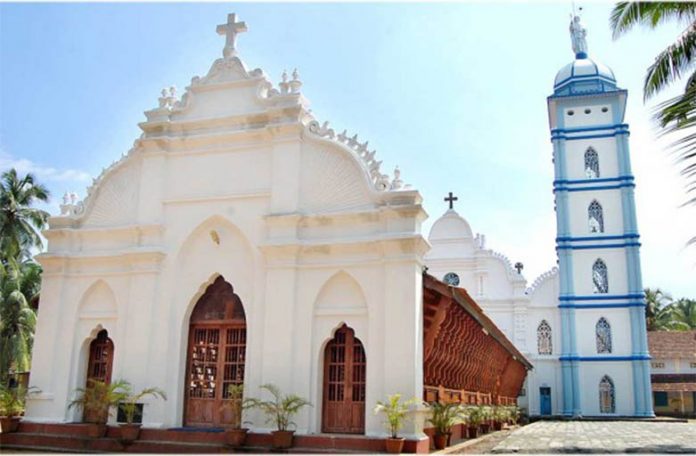 Kerala man has alleged that a group of priests blackmailed and sexually abused wife using her confessions.
The Malankara Orthodox Church in Kerala has suspended five priests over allegations that they sexually abused a woman from Thiruvalla.
According to a complaint submitted to the Church by the survivor's husband, his wife was sexually preyed upon by the five priests. This after they allegedly blackmailed her based on her secret confessions.
Confirming the complaint to TNM, Church spokesperson PC Elias said that the five priests have been suspended pending inquiry in the wake of allegations against them.
"We received a complaint from the woman's husband and the priests who have been accused have been suspended pending inquiry. We do not know if these allegations are true. Only after the inquiry can we say if it is genuine or fake. Future course of action will be decided based on the internal inquiry report," he said, refusing to divulge the identities of the five accused priests.
The priests have been indefinitely suspended, until the inquiry is completed. If the allegations are found to be false, they will be reinstated, the spokesperson added.
According to reports, three of the priests belong to Niranam Diocese in Thiruvalla, and one each from Thumbamon in Pandalam and Delhi. The church has 30 dioceses across the country.
In the last few days, an audio clip purportedly of the woman's husband, has been doing the rounds on social media.
The audio clip, which is a telephonic conversation between the man and another person, says that he confronted his wife upon seeing a hefty hotel bill in her e-mail account in February this year. Saying that he was raised as a believer of the Orthodox church and has lived all his life in purity, the man says:
"The first bill in the statement was my wife's hotel bill where she stayed in a five-star hotel. When I confronted her, she said that she was being blackmailed by one of the orthodox priests into having a sexual relationship with him. Many years ago, before we got married, a priest had sexually abused her and was blackmailing her since then. During my daughter's baptism, she was mentally upset about what was happening and so she confessed her ordeal to another priest, who threatened that he'll tell this to me. Threatening her so, he demanded sexual favours from her. He even took pictures of them together and shared those pictures with a third priest. He too, later started abusing my wife. They kept circulating the videos and now around 5-8 priests are involved."
The man then goes on to name five priests from different Dioceses, and says that there are more priests involved, but that he hasn't been able to verify their identities. He added that his wife has not divulged the extent of the abuse, fearing that the priests would do something.
"I was told that maximum punishment will be that they will be suspended. That is not enough for me, I want them defrocked and no other Church should take them in. They should be punished so that no one else does this," the man says in the audio.
But the Man says he will fight for justice until the five priests are expelled.
'They no longer deserve to be priests'
Sitting in his home near Mallappally in Pathanamthitta district, The man tells TNM that the priests continue to lead prayers even today, paying no heed to the church that has reportedly asked them to go on long leave.
On Thursday, He gave a statement before the Commission appointed by the church for the second time. The Commission consists of two counsels and a priest.
"My contention is that they no longer deserve to be priests," he says.
He argues, "Some people even ask me what evidence I have to complain that my wife was sexually abused by the priests. My evidence is the statement of my wife, what she has given in writing to me. I have given the complaint along with her statement."
How the abuse was revealed
It was on February 2 that he found a bank statement in his wife's email, that mentioned a payment of over Rs 9000 to the Le Meridian hotel in Kochi.
Later, he checked her mobile phone, where he says he found evidence that she had been meeting a few priests.
After a confrontation, the man says his wife told him the sordid story of how a priest had sexually harassed her when she was young. Later, when she confessed this to another priest, he used the information to blackmail her. The priest who took the confession, and other priests, then started asking her for sexual favours in order to keep their silence.
"I informed her parents and spoke to them in the presence of a nun. I wanted her to be with her parents for some days," The man added.
TNM has been unable to speak to the survivor, who is not in touch with her husband currently.
What happened when the church was approached:
"In the beginning, I was undecided about what I should do. I had composed a complaint to give the Superintendent of Police. But my parents suggested that I should first file a complaint with the church, or it will bring disgrace to all.
He then met the head of the Niranam diocese of Malankara Orthodox Syrian church in Thiruvalla on May 7. In the days that followed, he met the Thumbamon head of the church and Baselios Mar Thomas Paulose 11, the supreme head of the orthodox church in Kerala, at its headquarters in Kottayam. He also met the head of the Catholicate Church in Kottayam, since one of the accused priests is from that church.
He attached his wife's statement and a record of her messages along with the complaint.
"The three metropolitans and the Catholicate head were convinced that my complaint was genuine but they were not able to take a decision. First, I was told by the Niranam diocese head that action will be taken in ten days as the church needs to examine the issue. Then, an extension of ten more days was sought. Again, I was asked to give the church time till May 30. On May 30, my father called up a priest and he told us that the church has appointed a commission and will take three months to complete the enquiry."
The phone conversation
The man says he had no clue that the church commission would take three months and felt that this was just a delaying tactic. In his frustration, he spoke to a friend over phone in June.
"The mental pressure I have been going through is huge. I still can't believe that I am alive. My friend, who is also part of the church and with whom I shared everything, recorded the conversation and shared it on social media, which was then widely circulated," he says.
'Not against the church'
He adds many times during the conversation that he is not against the church or confessions to priests.
"I am a believer, a pious man, who is a part of the church. I am against the priests and not the church," he says.
Days after his wife went back to her home in May, He was stopped on the road by someone he had least expected.
It was the priest who had allegedly first sexually harassed his wife.
"He said that he had visited my wife's house and spoken to her mother. He said my wife gave a list of other priests. He used a derogatory word against my wife. What upset me most is that my wife's parents were aware that this priest had sexually harassed her. How did they allow him again into their house?" he asks.
But the man refutes reports that he is under pressure from the church to withdraw his complaint.
"Nobody threatened me either; but there is advice, big, big advice," he shares.
His 'well wishers' have been advising him over consequences. "Sometimes they tell me that I may meet with an accident, or that there will be mental tension or problems in the family. Some say I will get trapped in cases,".
Where is his wife now?
As per his latest information, she was at a retreat centre and he assumes that she must be back with her parents now.
Kerala Crime branch has been asked by the state's Director General of Police to investigate the allegation. He still wants only the church to investigate, but if he does not get justice there, he is ready to go to court.
"I want my wife back," The man said. "I cannot imagine anyone else in her place."