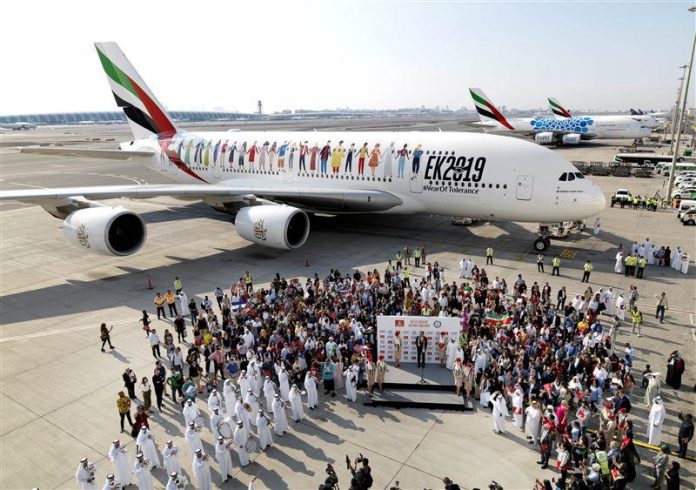 An intriguing sight was that most of the travellers came to the airport wearing the national costume of their country.
Have you ever heard over 500 people saying "yes, we did it" in the same tone when a flight lands in the same spot from where it took off two hours back?
I heard the unanimous voice on the Emirates EK2019 flight which took off and landed at the Dubai International Airport on Friday with 540 passengers of 145 nationalities. And the flight set a Guinness World Record for most nationalities on a plane.
I arrived at Terminal 3 and check-in for the flight started at 8am. Many came with small handbags to make the trip comfortable. An intriguing sight was that most of the travellers came to the airport wearing the national costume of their country.
Camera and mobile phones gathered around to capture Alton, a young woman from Kyrgyzstan, who wore a hat designed by herself, proudly in front of other passengers.
Kelepi Abgaria arrived from Fiji, the smallest island in the world. He was telling everyone "Bula Vinaka', which he himself translated into Marhaba in Arabic.
Abdy Mammayev from Turkmenistan and his Portuguese wife Joan Dsouza were taking selfies and videos constantly. I even thought of asking the couple to assist me on the journey.
I only had a glance of my seat before I started taking pictures. However, just before the take-off, the cabin crew requested me to be seated. "You can take as many pictures as you want after the flight takes off," she pacified me.
After the flight took off at 12 noon, I got up from my seat and continued taking pictures. The flight was like a carnival, full of jokes and bursts of laughter. I didn't even find anyone sleeping on the trip. An African man, wearing a feather hat, noticed me walking all over the flight and taking photographs and came up to me to offer me a dark chocolate. "Don't faint bro," he said with a broad smile.
And everybody on the flight was waiting for the announcement that came from Shefali Mishra, adjudicator of Guinness World Records. Following that, the cabin crew took over from her.
"Our flight EK2019 has bagged the Guinness World Record for the largest number of nationalities on a flight, which is 145."
The last sentence sunk into the claps of passengers.
The cabin crew then began issuing certificates of participation to all travellers on the flight. And of course, I received mine happily.
As the crew announced the landing, I returned to my seat in the Business class, where I had sat for hardly 15 minutes.
The flight landed at Dubai Airport exactly at 2pm.
At a ceremony held beside the historic flight, Emirates officials received the Guinness record certificate, followed by a group photo of all the passengers.
As soon as the group photo was taken, someone called out loud. "Dubai, we did it", which was echoed by all those who were present. I murmured: "Yes, we did it."