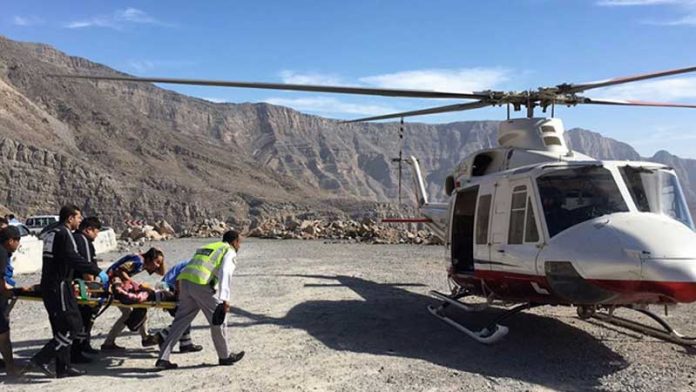 The Emirati injured his ankle near the Oman border.
A hiker was rescued by a helicopter crew after injuring his ankle in Ras Al Khaimah.
The Emirati, who is in his 40s, could not walk after the accident, which occurred in Wadi Shaam at about 11am on Saturday.
The National Search and Rescue Centre dispatched a helicopter to an area near the border crossing with Oman.
A crew member descended from the helicopter and secured the man's ankle before winching him on board. He was taken to Saqr Hospital in RAK City.
A video of the rescue appeared to show the man was hiking with several companions.
Thousands of hikers take to the mountains of Ras Al Khaimah in winter and spring as cool temperatures allow for day hikes and camping.
The emirate's terrain can prove challenging, though, and hikers are often caught out by loose rocks on steep slopes and increasing temperatures.
This month, an exhausted hiker was rescued from Wadi Ghalilah and in December a British hiker, 52, was seriously injured when he fell 100 metres in the Wadi Shaha area near Jebel Jais.