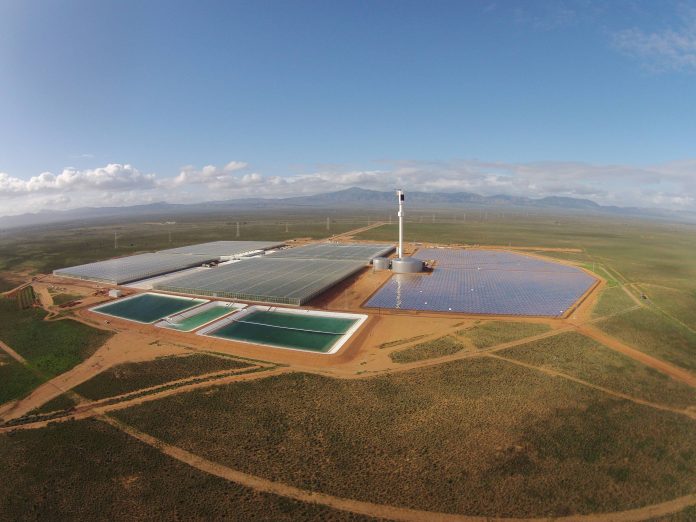 The SEAS being showcased at the ongoing Abu Dhabi Sustainability Week.
A research facility – the world's first desert ecosystem, designed to produce sustainable fuel and food in saltwater – is among the latest projects being carried out by Khalifa University's Masdar Institute in Abu Dhabi.
The Seawater Energy and Agriculture System (SEAS), being showcased at the ongoing Abu Dhabi Sustainability Week, is the world's first research facility to grow both food and make fuel using desert land irrigated by seawater.
The SEAS facility uses salt-tolerant halophyte plants that thrive in desert conditions and don't require freshwater or arable land to grow. After wastewater from the fish fertilises the plants, it is diverted into a cultivated mangrove forest. This further removes nutrients and provides valuable carbon storage before the naturally filtered and treated effluent is discharged back into the sea.
The groundbreaking project at the Masdar Institute in Abu Dhabi was inaugurated in 2016 in partnership with Khalifa University of Science and Technology, Etihad Airways, Boeing, Adnoc Refining, Safran, GE and Bauer Resources.
Researchers at the institute are exploring ways to improve crop yields and in turn, gaining understanding in cultivation of fish and halophytes.
Dr Alejandro Rios Galvan, director of Sustainable Bioenergy Research Consortium and Chief of Research Science at Khalifa University, explained that SEAS encompasses three sub-systems. "This project combines an integrated system of aquaculture, halo-agriculture, and mangrove silviculture to produce sustainable biofuel for aviation and other byproducts such as seafood,"
"In the system's operation, water is pumped from the sea to supply the aquaculture ponds to breed shrimp and fish. The nutrient rich water is used to irrigate and fertilise Salicornia fields, where salt-loving (halophytic) plants that are capable of growing in arid land with saltwater irrigation will be harvested for their oilseeds and can later be converted into aviation biofuel."
Galban explained that the leftover seed meal can then be used as feed for the fish and shrimp, or as a source of protein for animal feed. And finally, the effluent coming from the Salicornia fields will be channeled to mangrove swamps, which filter the water before it reaches the sea again. The mangroves also act as a carbon sink due to their extensive root structure, he said.
The SEAS pilot facility's main goal is to produce an alternative biomass resource that can later be converted into aviation biofuels, and to demonstrate that the integrated process is sustainable and environmentally responsible with respect to land and water use, carbon emissions and discharge of other byproducts, such as aquaculture waste products.
"A pilot SEAS is in place at Masdar City in Abu Dhabi with aquaculture ponds, Salicornia fields and mangrove wetlands. The oil from the Salcornia seeds is refined by Adnoc Refining at one of their facilities in Abu Dhabi, so it's a completely home-grown fuel," said Galban, adding that the fuel is safe and reliable as regular jet fuel once it is refined, except that it's not made from crude oil.
According to authorities, the fuel is tested and certified to the same stringent global standards as wall aviation fuel. It has been used on thousands of flights globally, all resulting in reduced carbon emissions.