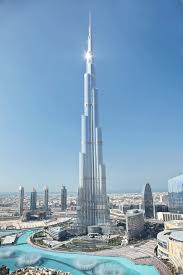 An Emaar official confirmed that the world's tallest building will light up in blue for the cause.
After persistent efforts to raise awareness about the 'Angelman syndrome' – a rarest-of-the-rare neurological disorder – for nearly three years, a Dubai-based British mum's dream is about to come true today.
UAE's most famous landmark, the Burj Khalifa, will light up in blue colour on the occasion of International Angelman Day to raise awareness on Angelman Syndrome (AS) – a rare, neurogenetic disorder that affects chromosome 15, resulting in intellectual and developmental delay. International Angelman Day is marked on February 15 every year.
Emily Ray, a British expat and school teacher, whose nearly five-year-old Sam Ray-Elkhodry was diagnosed with this complex disorder on April 6, 2017.
Affecting only one in 15,000 people, Emily took to social media to raise awareness about the complex disorder after her son's diagnosis, encouraging people to ask questions about the disorder. On Thursday, she shared her desire to light up the Burj Khalifa to mark the global AS day. Eventually, the UAE's Twitterati took notice, and within 24 hours, Burj Khalifa came forward to support the cause.
Burj Khalifa to turn blue at 7.40pm
On Friday, Emily was able to share the good news on her Facebook profile. "In honour of my four-and-a-half-year-old son Sam, who has Angelman Syndrome, Burj Khalifa will light up in blue at 7.40pm. This is, of course, for all the other AS families in the UAE, around the world, as well as the wider community of people of determination," she wrote.
An Emaar official confirmed that the world's tallest building will light up in blue for the cause.
"The statistics for Down syndrome are one in 700 approximately, and for autism, it is one in 59. Almost nobody knows about AS and we would like to change that, in a big way," said Emily, a French teacher and UAE resident since 2006.
"The genetic condition causes specific facial appearance, severe intellectual and developmental disability, speaking problems, balance and movement problems, seizures and sleep problems," she added.
Sam's achievements since his diagnosis
"Sam was born in City Hospital. When the doctor told me he has AS I did not know what that meant. My mum was here on a holiday, and we decided to run an Internet search for it," she explained. "Later, I realised it is not a good idea to Google something because it provides the worst-case scenario for any given condition. It said individuals with AS will never walk, talk or run. All the dreams I had for my child was crashing," said Emily.
Over time, Sam proved the Google wrong. "Since his diagnosis, he has achieved incredible things. He can run, climb the stairs on his own. Even though he cannot speak, he can communicate once you learn his language," he added.
Sam's parents are now trying to teach him to use augmentative and alternative communication (AAC) devices. "He is the most incredible little boy. His story is an inspiration. For Sam, developmental milestones are small but significantly important. He can now take the key, lock the door and open it as well," explained Emily.
Sam is always seen smiling, and according to Emily, he accepts everyone for who they are. A resident of Mirdif, Sam has fans everywhere in his community. "He high-fives and greets security staff at Mirdif City Centre Carrefour. Their faces light up when they see him. That's how we would like people to treat individuals of determination."
Speaking about Sam's interaction with his six-year-old sister Maya, Emily said:
"Siblings of kids of determination are the best. She is the most empathetic and understanding child I know. She understands that there are certain things she can't do when Sam is around. He enjoys picking up everything and throwing it out and I've never heard her complain about it."