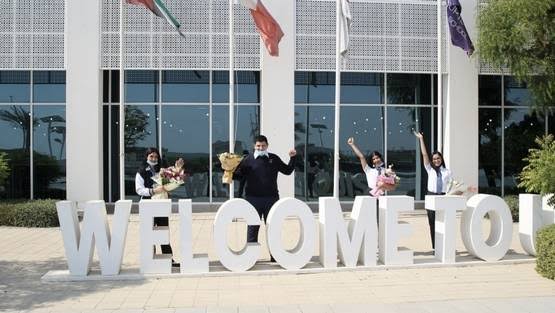 Dubai, one of the most visited cities in the world, has officially reopened to tourists, The first set of holidaymakers landed at the Dubai International Airport as soon as the clock struck 12 on Tuesday, July 7.
General Directorate of Residency and Foreigners Affairs (GDRFA) on Instagram show socially distanced travel procedures that are in place at the airport. Time-stamped 12.16am and 12.20am, the videos show tourists in masks and gloves adhere to all precautionary measures as they clear immigration and other travel formalities.
Some tourists, including children, are barely able to contain their excitement, with some giving the thumbs-up sign.
Reflecting its famed hospitality even amid a pandemic, Dubai welcomed travellers with special stickers on passports that read: 'A warm welcome to your second home.'
The shopping paradise of the world that boasts of iconic landmarks and glitzy malls have pulled out all the stops to ensure a safe holiday for tourists. The World Travel and Tourism Council (WTTC) gave the emirate the Safe Travel stamp last week, validating the stringent hygiene and safety protocols the city has put in place.
Tourists with Covid-negative certificates issued within 96 hours of travel can explore the city without having to undergo a quarantine or isolation period.
Those without a Covid-negative certificate, however, will need to undergo a PCR test on arrival at the Dubai airports and self-isolate until they receive their negative results.
Holidaymakers also must have a travel insurance with Covid-19 cover or declare that they would bear the costs for treatment and isolation if required.