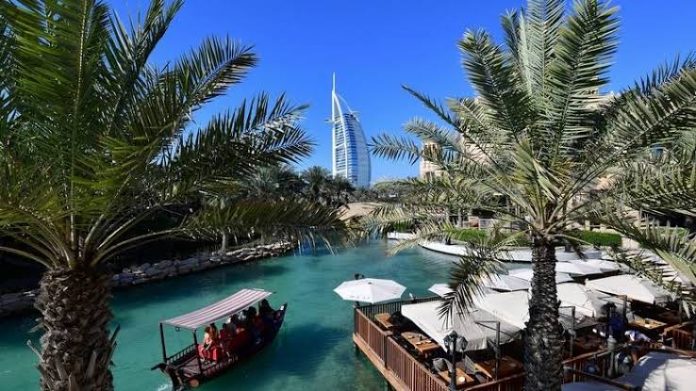 As Dubai rolled out the red carpet for tourists today, hotels across the city confirmed experiencing an increased level of engagement.
After more than three months of travel restrictions, the emirate's tourism sector pulled out all the stops to extend a safe and warm welcome to inbound visitors.
The result is a renewed buzz as holidaymakers snap up the chance to visit one of the world's most popular destinations and experience everything from its famed hospitality to its one-of-a-kind landmarks.
Shamil Sothirajah, reservation and revenue manager at Dubai International Hotel, noted that there have definitely been a lot more guests at their hotel.
"We had about 90 to 95 rooms booked today – all by international passengers," he said. "The highest number of such travellers are from Australia, followed by those from Toronto in Canada and New York, America."
Shamil added that they expect to have "a large number of bookings" going forward. "We already have an average of 115 bookings per day for the next 15 days," he said.
Ranjit Phillipose, area director for Middle East and general manager at Taj Dubai, said the hotel has "experienced a pickup in reservations from overseas for the fourth quarter".
"As Dubai tourism reopens, we are optimistic and look forward to welcoming new and returning guests to our hotels," he added.
With a mood of optimism prevailing across the industry, hotel representatives reiterated their commitment to all precautionary measures outlined by the government.
Pam Wilby, complex general manager at Grosvenor House Dubai and Le Royal Meridien Beach Resort and Spa, said: "We couldn't be happier to be welcoming tourists back to Dubai. To ensure the health and safety of our guests and associates is the number one priority."
She continued: "We have gone above and beyond the very stringent health and safety protocols implemented by the UAE government, and we are confident that people will be able to experience a fantastic stay with all that we have to offer, while adapting to the 'new normal'."
A representative from Radisson Blu Hotel, Dubai, said they are expecting the overall demand to increase as the Eid period approaches. "We have definitely see a greater movement on our reservations in the last few days. We are ready to welcome international travellers back to our hotel."
Surge in bookings for holiday homes
Industry representatives praised the authorities for its management of the pandemic, making it possible for the city to revive its tourism sector so quickly.
Vinayak Mahtani, CEO of bnbme – holiday homes by hoteliers, said: "We have witnessed a slight surge in bookings from international tourists in the past few days, and we are seeing an increase in bookings from travellers in the European sector, predominantly France."
Mahtani said his property has five new reservations for next week. Though he has not received any new bookings today, he said enquiries are plenty.
"I am also seeing a lot of enquiries from Kuwait, and travellers from Africa – which includes countries such as Kenya, Nigeria, Tanzania. I suspect that once the Indian and Pakistani borders open up, there will be a surge of families wishing to stay in Dubai for the next couple of weeks," said Mahtani.