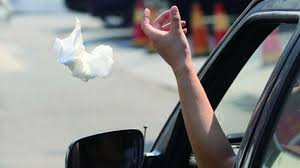 The passengers travelling in the cars are also advised to abstain from doing the same.
Abu Dhai Police has revealed that around 355 drivers have been involved in the offensive behavior of throwing out garbage from their vehicles on the roads in 2019.
According to a post on Abu Dhabi Police headquarters official Facebook page, Article 71 of the traffic law states that a fine of Dh1,000 shall be imposed on drivers caught dumping rubbish on the roads from their vehicles, while driving in Abu Dhabi.
Six black points shall also be awarded to them for the offence.
The Traffic and Patrols Directorate of the Central Operations Sector called on motorists to commit towards preserving the environment and appearance of the emirate, and to abide by the rules by not throwing waste from their vehicles on the roads for whatever reasons. The passengers travelling with them are also advised to abstain from doing the same.
Colonel Saif Hamad Al Zaabi, Director of the Abu Dhabi Traffic Department at the Directorate, urged the drivers to throw waste in the designated places and not litter around places in the city.
He explained that the traffic law included among its articles, the condition of prohibiting drivers and passengers from dumping waste on the roads.