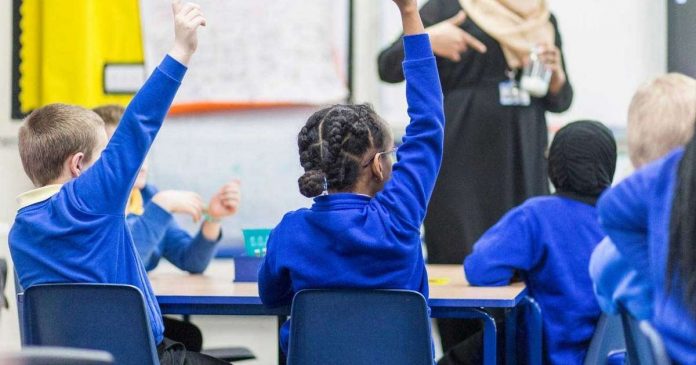 All teachers, however, are set to be screened for the coronavirus by the end of this week.
Covid-19 tests are not mandatory for students who are returning to schools in Dubai on August 30, the emirate's education regulator confirmed on Tuesday.
In a statement, the Knowledge and Human Development Authority (KHDA) said: "As we look forward to many students returning to schools next week, we would like to confirm that Covid-19 PCR testing is not mandatory for students."
All teachers, however, are set to be screened for the coronavirus by the end of this week, the authority said.
"All school staff members are required to carry out a Covid-19 PCR test prior to school re-opening for the new academic year/term. Staff who have carried out a Covid-19 test in Dubai recently and have a copy of the results will not be required to re-take the test," according to a recent circular sent to schools.
Hailing this KHDA decision, Zubair Ahmad, head of operations, at Springdales School Dubai, said the move came as a relief for several institutions that are still getting ready for campus reopening.
"We really welcome this move. The circular also states that the cost of the test will be borne by the Dubai government and it is undoubtedly a relief for schools as institutions are also under pressure. It's very thoughtful of the KHDA. The location of the testing centre and other details will be shared later," Ahmad said.
Abu Dhabi
Though schools in the country are set to reopen next week, there have been some variations on Covid testing policies implemented in other emirates.
In Abu Dhabi, all pupils over the age of 12, as well as teachers, must be tested.
Iain Colledge, executive principal at Raha International School in Abu Dhabi, said that to meet this requirement, they have decided to roll out e-learning for their secondary school students for the first four weeks.
"We are still awaiting clarification of the procedures for and the timings of Covid-19 testing for our older secondary students," Colledge said.
Shedding light on the possible impediments in the future, Dene Bright, principal of Reach British School, said: "The challenge will be with how often students will have to be tested and the costs of that moving forward."
Parents, however, agree that it's best to take one step at a time. Abu Dhabi resident Adilatul Salmiah Abdullah, who is a mother of two children, said: "My son is 17 and my daughter is 14 so both need to undergo mandatory tests. However, as they will continue with online learning for now, we are adopting a wait-and-see approach."
Another parent, Zoya Shaikh, said they are still awaiting the 'fine print'. "Whenever we receive that, we will act accordingly."
Sharjah
In Sharjah, teachers and students of all ages must have a negative Covid-19 test result before returning to school.
Since parents have been given the option to choose between in-person classes and remote learning, many had initially opted for the blended mode but are now weighing their options with the recent increase in virus cases.
A parent, who spoke on the condition of anonymity, said they are among those who decided to go for blended learning first, but his daughter's teacher said most of the other children are opting for 100 per cent online classes. "So, my wife and I reconsidered our decision and are going with online only."
"Schools have so far not informed us about how Covid-19 tests will be conducted even if we revert to our original plan (of going for blended learning)," he said.
Ras Al Khaimah, Umm Al Quwain
In Ras Al Khaimah, teachers and school staff will not be allowed to enter campuses unless they present a negative Covid-19 test result.
The test should have been taken at an approved centre and the result should have been issued not more than 96 hours before the teaching staff's entry into the school. Screening centres have been opened at the emirate's Expo and Sports Hall.
In Umm Al Quwain, 1,075 public and private schools' teaching and non-teaching staff completed their Covid-19 screening. Tests were conducted at primary healthcare centres.