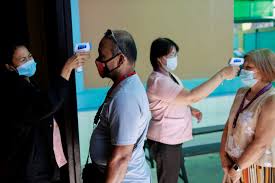 Nationwide emergency declared after health officials confirm local transmission.
Manila (AP): The Philippine president has declared a state of public health emergency throughout the country after health officials confirmed over the weekend the first local transmission of the new coronavirus.
Health officials reported Monday a doubling in just a day of COVID-19 cases in the Philippines to 20 confirmed infections.
President Rodrigo Duterte's declaration, which he made public on Monday, says the viral outbreak "constitutes an emergency that threatens national security which requires a whole-of-government response."
Under the declaration, authorities could order mandatory reporting of infections, enforce quarantines and other disease-control actions, including calling in police and other law enforcement agencies to help deal with the COVID-19 threat.
'No-touch' policy with Duterte
Meanwhile, the Presidential Security Group (PSG) of the Philippines said on Monday that it will implement a "no-touch" policy on President Rodrigo Duterte to ensure his safety amid the COVID-19 outbreak.
"PSG will strictly implement preventive measures against the virus to ensure the safety of (the 74-year-old president) and the first family," PSG Commander Colonel Jesus Durante as saying in a statement.
Durante said people who are expected to get near Duterte especially during meetings and events will be thoroughly screened and tested for any illness related to COVID-19, including PSG personnel, politicians, and dignitaries.
"Large crowd gatherings with Duterte as guest of honour and speaker shall be assessed and could be canceled not only for his safety but also for the attendees," he added.
The PSG Commander said all established health protocols and preventive measures are continuously in effect to all PSG personnel and the whole Malacanang presidential palace complex.
Durante added the PSG imposed the policy after the Philippine Department of Health (DOH) raised the COVID-19 alert system to code red sub-level 1 on Saturday after more cases were detected.