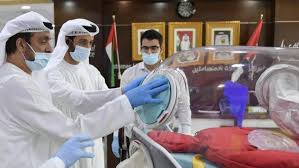 ERC has coordinated with various government bodies and will study the needs of the families of patients.
The Emirates Red Crescent (ERC) assures that all the needs of Covid-19 patients in the country – including the education of the kids of those who died – will be taken care of, a senior official announced on Monday.
In a virtual Press briefing, Mohammed Al Fahim, official spokesperson for the ERC Authority, said: "The Emirates Red Crescent Authority has coordinated with various government bodies and will study the needs of the families of Covid-19 patients. We will provide them with the required education support.
"We are currently working on a community initiative, in cooperation with private schools and colleges, to reduce tuition fees for families affected by the repercussions of the crisis."
The Ministry of Health and Prevention on Monday announced 484 new cases of Covid-19 in the country, bringing the total number of cases to 7,265. It added that 74 patients have fully recovered from the virus, with the total count of recoveries now standing at 1,360.
The ministry also announced two new deaths, both Asian, taking the total to 43. Rallying support for Covid-hit families
Al Fahim called on community members and institutions to support their initiative for the families left behind by those who died of Covid-19.
"We are also looking into the situation of people who are stranded abroad and (how we can) provide them with their needs," he said.
"We have launched numerous campaigns to support everyone who has been affected by the pandemic."
Al Fahim noted that in collaboration with the Ministry of Education, the ERC has donated Dh5 million to help with the students' needs, including laptops and tablets for e-learning
"We have also distributed 100,000 health supplies, including sanitisers, masks and gloves for health workers, and handed meals to people in need," he added.
"We have also worked with various landlords to help exempt tenants from paying rent.
Currently, the authority is working on delivering one million meals to the needy.