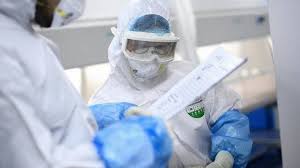 The therapy transfers immunity from a recovered patient to an affected person.
Convalescent plasma therapy boosts immunity in severely affected Covid-19 patients, doctors said on Monday, April 13.
Dr Maher Balkis, associate staff physician, infectious diseases, Cleveland Clinic Abu Dhabi, said the therapy transfers immunity from a recovered patient to an affected person.
"Convalescent plasma therapy is an adaptive immunotherapy treatment used to support a patient's immune system by giving them antibodies in blood plasma from recently recovered patients. It has been used in the prevention and treatment of diseases for more than a century and played a role in treating patients during the SARS, MERS and H1N1 pandemics," Dr Balkis said.
He noted the therapy helps to treat critical Covid-19 cases.
"As there is no approved vaccine or cure for Covid-19, treatment consists of supporting a patient's own immune system in fighting off the disease and, in severe cases, supporting their breathing. Convalescent plasma therapy has been used to some success in treating Covid-19 around the world by supplementing a person's own immune system with antibodies from recovered patients to fight off the virus more effectively. Trials of the treatment have seen marked improvement in severely affected patients after just a couple of days of treatment with convalescent plasma."
Therapy is no vaccine
On Monday, there are 852 Covid-19 recoveries in the UAE, which means those many donors.
However, Dr Sundar Elayaperumal, specialist microbiologist, Burjeel Hospital, underlined such a therapy isn't a vaccine but can be applied for those in critical state like respiratory failure, sceptic shock, on ventilator support etc and not for patients with mild symptoms.
"Therapy should be administered depending on condition of the patient."
He noted a donor must be free of the symptom for at least 14 days and the best way is to wait for 28 days.
"The donor should have recovered completely. Ideal time (for donation) will be 28 days after recovery. If it's after 14 days, it should be confirmed (negative) case. There should be check done for antibodies," said Elayaperumal, who is a member of the American Society of Microbiology.
The doctors reiterated that such a therapy is in the trial phase and pending approval of the US Food and Drugs Administration (FDA).
Dr Balkis stressed 'it's too early' to comment on the survival rate for patients.
"The data gathered during the pandemic will have to be analysed."
Emirati becomes first donor
The Convalescent plasma therapy – a proven treatment for other infectious diseases – gives hope for some Covid-19 patients in the UAE.
On Thursday, Sheikh Khalifa Medical City (SKMC) Abu Dhabi started treating a patient with the plasma of an Emirati, who became the first donor for Covid-19 case in the UAE.
SKMC said a 29-year-old Emirati patient who recovered from Covid-19 was the donor. The Emirati was 'too happy' to be a donor and help others. The quantity of extracted antibodies could be enough to treat two patients. The patient who received is in 'moderate to severe condition'.
The health authorities in Abu Dhabi are closely following up on results of the treatment.