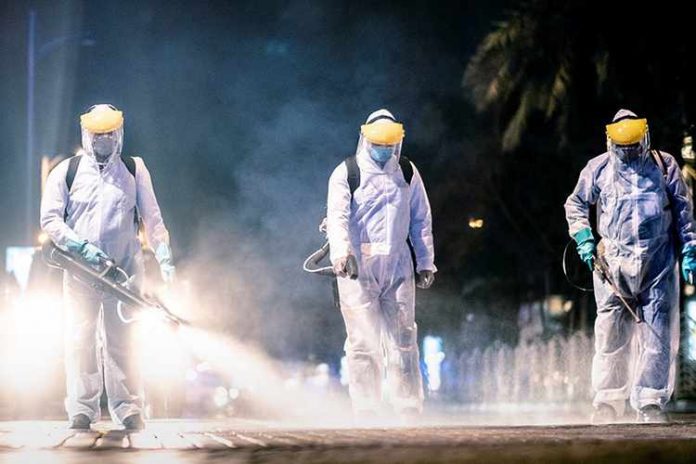 The revised timing will be applicable from Wednesday.
The National Sterilisation Programme in the UAE will be implemented from 8pm until 6am, authorities have announced.
The revised timing will be applicable from Wednesday and will be remain effective until further announcement, it was said during a virtual Press briefing on Monday.
The nation-wide sterilisation programme was being implemented from 10pm till 6am, when residents are not allowed to venture out.
Ahead of Eid Al Fitr, authorities have announced partial relaxation of the restrictions that will see a number of sales outlets, including meat and vegetable shops, fruits, toasters, mills, slaughterhouses, fish markets, coffee and tea shops, in addition to those selling nuts, sweets and chocolate to open for business. These outlets will operate from 6am until 8pm.
All outlets that are authorised to operate should implement health and safety measures like 30 per cent of the capacity of shoppers and maintaining distance of at least two metres between customers, the official added. Shopping timings for each shopper will be limited to two hours. Shopping centres will operate from 9am to 7pm and adults above the age of 60 and children below 12 will not be allowed inside malls.
Celebrate virtually
Dr Saif Al Dhaheri, spokesperson of the National Emergency Crisis and Disaster Management Authority (NCEMA), advised residents to celebrate Eid virtually and avoid visiting families and holding gatherings. Residents are also advised to communicate with their families and friends using social media and stay at home for the health and wellbeing of everyone.
"Avoid giving Eidi to kids… Not even the money from ATMs. Use electronic means instead," said Al Dhaheri. Residents are also advised to avoid visiting pregnant women and children, and also those who are among the most vulnerable to this infection, like the elderly and people with chronic illnesses. Domestic workers also should not be allowed to visit anyone outside, and they should be given personal protective equipment to curb the risk of infections.
"We see a daily increase in cases due to irresponsible behaviours of some, a few who are not aware of the consequences of not adhering to health guidelines," he added.
"Despite some violations, we would like to thank hundreds and thousands of citizens and residents who are complying with the guidelines and are keen on protecting their wellbeing as well as those around them. Many families are avoiding family gatherings and are being responsible and taking decisions to have virtual celebrations," said Al Dhaheri.
Reiterating the need to maintain social distancing and take precautions, the official said residents can exercise outside their houses, but with not more than three individuals in a group.