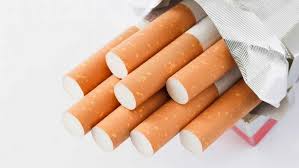 The minimum price applies to all brands of cigarettes and locally traded tobacco products.
The cheapest cigarettes available in the UAE are now being sold for Dh8.50 per pack, following the implementation of the new excise tax on Sunday, Khaleej Times can reveal. The 20-cigarette pack used to cost Dh6 prior to December 1.
Back in October, the Federal Tax Authority (FTA) issued a directive setting the minimum price of a cigarette at Dh.40 (40 fils) or Dh8 for a pack of 20 sticks. The move was aimed at "limiting the consumption of products that harm individuals' health", according to the FTA.
The minimum price applies to all brands of cigarettes and locally traded tobacco products. A section of the media had erroneously reported that cigarette prices have gone up by Dh8 per pack. However, tax experts had explained that the FTA has only set the floor price for cigarettes. This means that a pack of 20 cigarettes must now be priced at a minimum of Dh8, inclusive of VAT (value-added tax) and excise tax.
The minimum price for water pipe tobacco (known in Arabic as 'Mu'assel') was set at Dh0.1 (10 fils) per gramme or Dh25 for every 250 grammes.
Confusion at stores
Though the FTA directive is clear, there is confusion at some stores in Dubai about cigarette pricing. The minimum price for a pack of 'Three Stars' cigarettes at a petrol station was Dh8.50. However, a neighbourhood store in Al Barsha was selling the same brand for Dh11.5.
Another convenience store in Al Quoz jacked up prices of premium cigarettes. A pack of 'L&M' was being retailed at Dh14.5 as opposed to Dh10 previously. A pack of Marlboro cigarettes was being sold for Dh22.5 as opposed to Dh21 earlier. Prices of cigarette packs that cost over Dh8 remained unchanged at petrol station convenience stores.
Thomas Vanhee, partner at Aurifer Middle East Tax Consultancy and an affiliate professor of tax law, had earlier explained the pricing scheme. He said: "A pack of 20 cigarettes previously sold at Dh10 will be in excess of the minimum (Dh8) price. If the seller does not increase the price, the Dh10 retail price should remain as it is already inclusive of 48 fils VAT and Dh4.76 excise tax."
Kicking the butt
The FTA had said that enforcing a minimum excise price for cigarettes and other tobacco products serves to accomplish two strategic objectives: Protect consumers and the community from products that damage public health and the environment, and prevent price manipulation for the purpose of tax evasion.
The scheme seems to be working, as some smokers are either reducing the number of cigarettes they light up or kicking the habit altogether. A Filipino expat said cigarettes have "really become prohibitive because the government wants us to stop smoking".
Meanwhile, prices of sugary drinks and powders have also increased. The rate of the new excise tax is 50 per cent on carbonated drinks or any product with added sugar. A 250ml energy drink previously sold at Dh9.75 is now Dh11.50, while a coffee creamer that used to be Dh10.50 is now priced at Dh13.50.
The tax effect
>Dh8: Is the minimum price of a 20-cigarette pack
>Dh25: Is the minimum price per 250 grammes of waterpipe tobacco
Sin tax
>100% excise tax on tobacco and tobacco products; electronic smoking devices and liquids; and energy drinks
>50% excise tax on carbonated beverages and sweetened drinks.