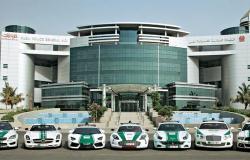 A patrol car passed by a suspicious pick-up truck carrying many boxes.
Dubai Police have foiled a theft attempt involving two Asian nationals who had robbed, with the help of two others, a company's goods for trade purposes at the jurisdiction area of Jebel Ali Police Station.

Brigadier Dr. Adel Al Suwaidi, director of Jebel Ali Police Station, said that two officers were patrolling the area when they passed by a suspicious pick-up truck carrying many boxes.

"The officers stopped the car and questioned the driver and the passenger who claimed that they were transporting goods of a company to another. Aside from the fact that they could not provide any information regarding the alleged company, they also did not have neither billing invoices nor confirmation documents for the goods," Al Suwaidi added.

"Under thorough interrogation, the suspects confessed that they had planned the operation with the help of the security guard of the affected company. We brought in the third accused who confessed that he had robbed the goods with the assistance of one of the company's employees and sold them to the suspects," Al Suwaidi continued, praising the efforts of the two patrol officers for their actions.

All accused have been arrested and legal action has been taken against them.