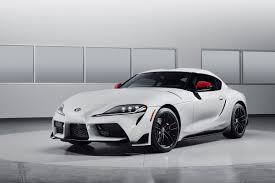 The 2020 Toyota GR Supra was unleashed on the UAE at a Yas Marina Circuit racing event last week.
In the age of increasing crossover SUV sales (no com-ment), throwing a new two-seater popular market sports car into the fray could be seen as a bit of a risk, let alone reviving a classic model. Though, such is Toyota's clout and confidence, they can pretty much play by their own rules. And so, after a 17-year hiatus, the 2020 Toyota GR Supra was unleashed on the UAE at a Yas Marina Circuit racing event last week. As a result of its speed and drifting prowess, the roadster has garnered a huge loyal following since its inception in 1978 and we can only imagine the latest fifth-generation incarnation will excite those fans. But what does it offer new potential punt-ers? We had a mosey on down to find out.
Looks good, what's the performance like?
Conceived at Germany's Nurburgring, which is where you need to go if you're looking to build a fast machine, the new Supra's in-line turbocharged three-litre six-cylinder front-end engine went through rigorous testing. 0-100km/h in 4.3 seconds and a top speed of 250km/h are rather impressive not to mention the 335hp and 50.99kg-m of torque produced. Everything is funneled through an eight-speed transmission, with steering-mounted paddle shifts included for all your F1 fantasies. Forged aluminium 19-inch wheels put the grunt down on the tarmac and the back ones, which drive the car, don't half make a satisfying screech if you're flying through the corners or if you rigorously set off. The Japanese manufacturer's in-house motor sport department Gazoo Racing's expertise has been put to good use.
And what's it like to drive?
Low to the ground, nippy, harder suspension and rear-wheel drive deliver an experience you'd demand from a vehicle in this segment. The cockpit has been ergonomically designed to comfortably hold people of all proportions (trust us). Drifting around corners, in specially sanctioned arenas, is easy – the back end almost wants to kick itself out. Don't worry, though, you can trust the brakes to keep you safe. The dual sports exhaust only adds to the aural sensation driving this car provides.
Do we need to talk about the looks?
Almost two decades away have afforded the designers time to come up with something special. We loved the Supra from the front on, the low segmented grille and LED lights create an edgier persona. There is perhaps a little too much business going on at the back for our liking, but it is offset with that racing exhaust set-up. Inside, the equipment is well appointed in black with metallic highlights.
Anything else?
The 8.8-inch colour display screen in the centre is standard, but the 12-speaker JBL sound system is a treat. However, you'll not use it that often. You'll be too busy trying to rev the engine to create your own lovely soundtrack.
Specs
Engine: 3L turbocharged
Power: 335hp
0-100km/h: 4.3 secs
Top speed: 250km/h
Retail price: Dhs229,000