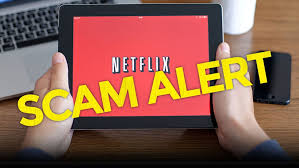 Customers are being urged to be wary.
Scammers are now eyeing Netflix in a new phishing fraud that leaves unsuspecting subscribers with nil bank accounts.
Befooling Netflix customers by telling them their subscription has been cancelled, scammers in Australia are sending emails and seeking to get bank account details.
According to reports in Daily Mail, email security service MailGuard first detected malicious emails being sent to Netflix customers across Australia on Friday. In the fake emails, the scammers claimed that Netflix subscription has been cancelled and included a link to reactive subscription.
On clicking the link, a Netflix branded phishing page opens and after users log into their accounts, they are taken to a fake Netflix account page. Once here, the page demands to click on the link to 'continue' then leads users to a form demanding their payment information.
Although scammers have cleverly incorporated Netflix branding and logo in the emails, there are several red flags like grammatical errors and a footer containing instructions in French at the end of the email. Also, the emails have display name of 'Netflix' but the name part of the address is 'info.mailer.netflix.com'.
To avoid becoming a victim on this online scam, MailGuard urged all recipients of this email to delete it immediately without clicking on any links.