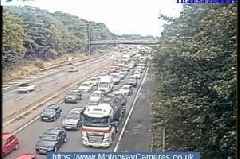 Accident involved a microbus and truck.
Eight people were killed and six suffered severe injuries in a major traffic accident that happened along Sheikh Mohamed bin Zayed Road in Dubai on Monday morning.
The Dubai Ambulance announced that the accident involved a microbus and a truck along Sheikh Mohamed bin Zayed Road before Mirdif City Centre, towards Sharjah.
Executive Director of the Dubai Corporation for Ambulance Services, Khalifa bin Draiy, said that the Dubai Ambulance team rushed to the spot and took the injured to Rashid hospital. He urged motorists to be cautious and pay attention on the road while behind the wheels.