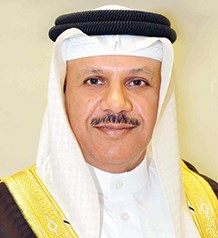 Al Zayani delivered a lecture on Gulf Cooperation Council: Ambitions and Achievements.
Dr Abdullatif bin Rashid Al Zayani, Secretary-General of the Gulf Cooperation Council (GCC), has said that the UAE is a great example in giving a healthy life to its citizens.
Addressing around 400 students at the Zayed University campus in Dubai on Thursday as part of the varsity's Middle East and GCC Studies minor programme, he talked about the formation of the GCC, stressing that it was established following an insight proposed by the late Sheikh Zayed bin Sultan Al Nahyan, founding father of the UAE, and his brothers the leaders of the GCC countries.
He was welcomed by Noura bint Mohammed Al Kaabi, Minister of Culture and Knowledge Development and President of Zayed University, and Dr Behjat Al Yousuf, acting vice-president of Zayed University. Al Zayani delivered a lecture on "Gulf Cooperation Council: Ambitions and Achievements.
Strategic objectives
"There are five strategic objectives that we abide by in the GCC. The first is ensuring safety and security in all aspects, whether against external threats or combating crime. The second is maintaining economic growth and work to diversify the sources of income. Third and most important is human development for which we must invest in educating future generations and create innovative environments, all to ensure that our citizens shape and create new opportunities and become entrepreneurs, rather than searching for jobs," he said.
He said that the fourth objective the GCC follows relates to strengthening the international presence of the council among regional and international organisations. And lastly, he said the GCC also focuses on adapting to a regional resilience to ensure that dealing with crises and disasters is done effectively so that we recover from them as quickly as possible, and help in reshaping a post-crisis stable. A great example here would be the UAE for hosting an academic postgraduate programme in strategic, defence and security studies.
Training most important
In response to a question by a university student about the key to success, Al Zayani said that the secret of success that he drew from his entire life experiences, is "training, training, and training". "Although the three sound the same, they are different. The first training is joining a training programme, the second training is training others, and the third is self-training by setting one's challenges, objects and tasks. From such experiences, they develop new patterns and methods to succeed," he said.
"We are working on achieving an economic unity by the beginning of the year 2025 and there are many examples for our success in the economic field. The most prominent of this is the volume of trade exchange which stood at around $6 billion in 2003, and surpassed $147 billion last year," added Al Zayani.
Emirati women a major pillar
He praised Emirati women for the notable achievements and described them as a critical pillar in the unification of the nation, and the formation of the GCC. He also praised Noura Al Kaabi, saying that she is not only an ambassador of Emirati women, but also of all the GCC ladies.
"Today, I witness Emirati women excelling in all fields – in education, science, culture and social bonding. They are great contributors to the advancement of their nation. Major Mariam Al Mansouri, who joined the UAE Air Force, was among the first pilots to lead the campaign against Daesh in Syria. Furthermore, among you is a mother, who've raised the first Arab astronaut, Hazzaa AlMansouri," he said.