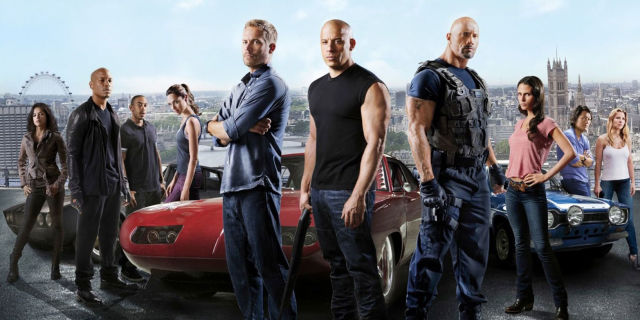 Last year, Dwayne Johnson took to Instagram to both embarrass some of his male counterparts for unprofessional behaviour
The Fast and the Furious franchise has seen its share of drama outside of the films, but rumoured infighting between the series' biggest stars, Vin Diesel and Dwayne "The Rock" Johnson, is uncharted territory for the long-running series.
The riff was put into the spotlight last year when Johnson, while shooting The Fate of the Furious, took to Instagram to both express appreciation for his female co-stars and embarrass some of his male counterparts for unprofessional behaviour, calling them "candy [expletive]." It's alleged he was referring to Diesel.
But at the film's world premiere on Saturday night in New York, many attributed the situation between the two stars as nothing more than "business as usual" on a film set.
Johnson and Diesel were not seen together during promotional appearances, nor did they pose together on the red carpet. Johnson walked the carpet at the beginning of the premiere, while Diesel arrived later.
Michelle Rodriguez, who plays Letty in the series, equated it to a family squabble.
"If you know a family that never fights, then I think… you just met a Stepford family, and that family is [expletive]," Rodriguez said. "It's not real."
Kurt Russell, who is back as Mr Nobody, didn't notice any bad blood on the set. But he also said conflict is not an unusual thing on movie sets in general.
"I didn't see that, and I was there a lot. I would tell you. If there was I would tell you, 'Yeah, they got into it pretty good,'" Russel said. "I'll tell you what I can tell you: All movies are the same. Sometimes they are not an easy ride."
Russell feels the public paid attention to the rumours simply because of the popularity of the eight-movie franchise.
Director F. Gary Gray, a newcomer to the franchise, thinks the situation was overblown in the media.
"When you're striving for perfection, the process isn't always perfect, but we are all proud of what ended up on the screen," Gray said. But when asked if the two stars got along in the end, Gray simply said "ask them" before walking off.
Off-screen intrigue isn't expected to hamper box office results, however. The latest instalment in the $3.9 billion (Dh14.3 billion) franchise is expected to earn more than $110 million when it speeds into US theatres on April 14 (April 13 in the UAE).
Actor Tyrese Gibson, who stars in the franchise, and who has become an avid fan of the UAE, will meet fans at a special screening of the film at Vox Cinemas in Yas Mall Abu Dhabi on April 11 at 6.45pm. He will then head to Dubai on April 12 to meet pre-selected fans at another screening at Vox Cinemas, Mall of the Emirates.