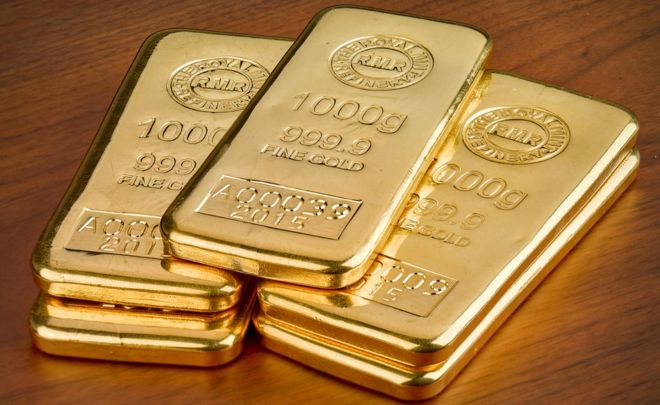 old rallied to the highest in almost five months after the US launched a missile strike against Bashar Assad's regime in Syria. The metal was supported by a report that showed the American economy added fewer jobs than economists expected.
Spot gold climbed as much as 1.5 per cent to $1,270.87 an ounce in New York, the highest intraday since Nov. 10, and broke through the 200-day moving price average, indicating upward momentum.
Bullion later pared gains as traders looked past the geopolitical situation and the flight to quality eased.
The decision to strike Syria marks a reversal for US President Donald Trump, who during his campaign faulted past leaders for getting embroiled in conflicts in the Middle East. Secretary of State Rex Tillerson told reporters that "steps are under way" to mobilize a coalition to remove Assad, a Russian ally.
The American attack was condemned as an "act of aggression against a sovereign state" by Russian President Vladimir Putin.
"There's clearly an element of risk aversion in the market, so you have buying of gold," said Georgette Boele, a currency strategist at ABN Amro Bank NV in Amsterdam. The metal has been close to the 200-day moving average for some time and "needed something like this to break through."
The US action followed a gas attack in Syria's Idlib province earlier this week. Announcing the strike, Trump said: "There can be no dispute that Syria used banned chemical weapons." Syria has denied responsibility.
Miners were boosted by the rise in gold, with Randgold Resources climbing 4.3 per cent in London, while AngloGold Ashanti, the world's third-largest miner of the metal, climbed 3.8 per cent and Gold Fields rose 6.3 per cent in Johannesburg.
The US economy added 98,000 jobs in March, trailing the 180,000 median forecast in a Bloomberg survey of economists, a government report showed Friday. The employment data comes at the end of a week when strong private payrolls data and weak automaker sales gave conflicting signals on the strength of the economy.
"We saw a further move higher on the disappointing payrolls number," said Brad Yates, head of trading for Elemetal, one of the biggest US gold refiners.
"You've got people doing safe-haven seeking. Gold broke through its 200-day moving average. That has some shorts covering and potentially a new leg higher."
Gold futures for June delivery rose 0.3 per cent to settle at $1,257.30 on the Comex. The metal has climbed 9.2 per cent this year. Spot gold was up 0.3 per cent at 3:33 p.m. in New York.
Silver fell on the Comex, while platinum increased and palladium declined on the New York Mercantile Exchange.
"The situation in Syria continues to deteriorate, with news of a US missile strike," Jordan Eliseo, chief economist at Australian Bullion, said in an email.
"It's no surprise for gold to catch an immediate safe-haven bid."