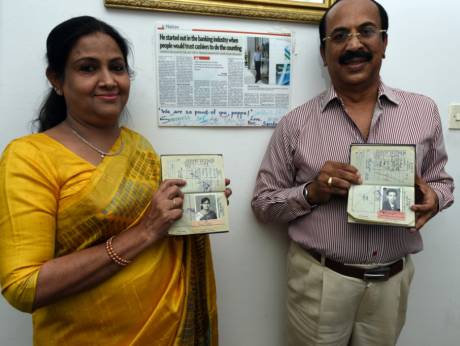 Sethumadhavan and a few friends landed in Khor Fakkan on a boat in 1969 without a passport or visa
Dubai: An Indian expatriate leaving the UAE for good after living here for 48 years says he is returning with a lifetime of experiences and friendships.
"I have spent most of my life here and Dubai is a part of me," Madavil Pythal Sethumadhavan, 68, who came to the UAE in 1969, told Gulf News.
"I've met hundreds of people from different nationalities and I am returning with a wealth of life experiences and friendships."
Till 1971, Sethumadhavan had to do odd jobs in a hotel for over a year till he got a placement with the New India Insurance company the same year. After nearly five years, he joined another insurance company as a claims manager.
In 1980, he joined Pan Fresh International Trading and worked there for 37 years as an admin manager.
He got his driving licence in 1974 and was once the proud owner of a motorbike with registration number 'Dubai 39'.
"I have been driving around for many years, but I still get lost when I go to new Dubai areas like Marina and Jumeirah Lakes Towers. I have to call my kids to direct me home," he said, laughing.
Sethumadhavan said he and his wife, who joined him here in 1976, have only fond memories of living in Dubai.
Unbelievable growth
"We have seen Dubai's unbelievable growth. I have enjoyed my stay here although I had to struggle in the early days. My kids grew up here and have migrated to the US and Canada where they have good jobs," he said.
Sethumadhavan is excited about availing the visa-on-arrival facility offered to Indians by the UAE as he now has a US visa. He plans to settle down in the US with his daughter.
Last month, the UAE Cabinet approved a decision to grant Indian passport holders with either a valid US visa or a green card, visa on arrival for a period of 14 days, with an option for a one-time extension for the same period.
"I was hoping to complete 50 years here and be around for Expo 2020, but I need to leave now because of my children and grandchild. I am happy that this new facility will help me return without running around for a visa," he says.
Sethumadhavan plans to visit friends in Dubai whenever he travels between the US and India.
"I won't take a direct flight. If everything goes well, I will definitely have a stopover in Dubai. Dubai airport was just a hall when I first travelled to India in 1973. Now, it is one of the biggest and best airports in the world."
Interestingly, Sethumadhavan came over to the then Trucial States from India in a launch boat without a passport. He had applied for a passport before undertaking the journey.
It was an adventurous trip from the erstwhile Bombay to Khor Fakkan by 10 friends from Thalassery in Kerala who were in their teens and early twenties.
"I went back to India on a ship in 1971 to get the visa of the Trucial States stamped from the British High Commissioner in Chennai," he recalled.
Relocating
As he prepared to fly back to India on Monday for a short break with his siblings before relocating to the US by the end of this month, Sethumadhavan painfully recollected that he is the last one in his old friends' gang to be here for so long.
"Four of them died and four have gone back home for good. One comes here only for business visits. Only I stayed back for such a long time," he said.
Being instrumental in launching a scholarship scheme for meritorious economically backward students in his alma mater — Zamorin's Guruvayurappan College in Kozhikode –10 years ago is one of Sethumadhavan's greatest achievements.
The college alumni group, which now gives scholarships to 25 students, hosted a farewell function for Sethumadhavan. He was honoured by popular Malayalam actor Joy Mathew, who is also an alumnus of the same college and a former Dubai resident.