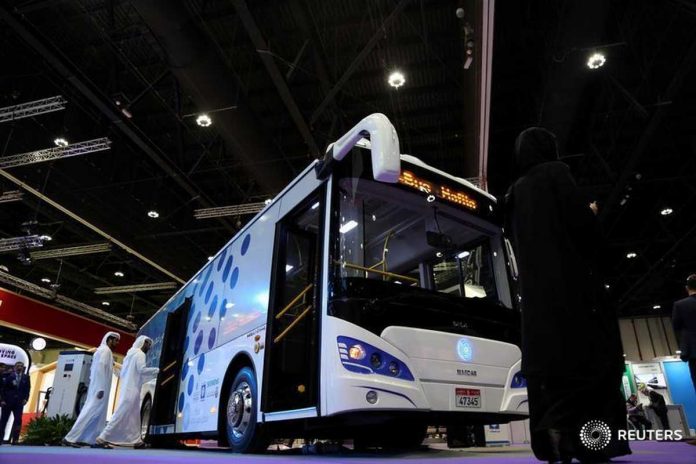 The new buses have additional seating capacity and USB power charging points.
Some 60 new public transport buses with additional seats and facilities have hit the streets of Abu Dhabi.
"The Integrated Transport Centre rolled out 61 new buses. They are the first city-running Euro 6 buses within the Mena region. Euro 6 is the latest emission standard for combustion engines in the new buses. It reduces the pollutant emissions and greenhouse gases that affect the quality of air," the Integrated Transport Centre said on Thursday.
The new buses have additional seating capacity and USB power charging points. The bus flashes 'STOP' on rear destination indicator screen whenever it slows down before coming to a halt.
Apart from advancement made to Darb app, commuters can also check live arrival timings of buses at stops through solar-powered e-paper displays.
New routes and extensions
The Integrated Transport Centre noted 'significant improvement in bus services' have been made in Abu Dhabi Island, Khalifa City, industrial area of Mussafah, suburbs of Al Raha, Al Shamkha, Al Adla, Shakhbout City and Baniyas.
There are new routes, modification and extensions on existing ones, and increase in frequency of some buses. Some of the 61 new buses replacing the old ones are on routes X3, X4, 161, 401 etc. Higher seating capacity buses will ply on routes 210, 410, 420, 161, 170, 402, B43, B45 and B47.
Inside the city, while 044 got extended to Mina Cruise Terminal, 009 will no longer serve Mina Souq. Route 043 will cover the inner roads of Al Mushrif area.
New route 407 will operate every hour connecting Al Mafraq Workers City to Abu Dhabi City and S30 runs from Al Adla to Al Shamkha via Makani Mall. Modified route 420 will provide new connection for Shakhbout City-Mafraq Hospital-Bawabat Al Sharq Mall in Baniyas.
Also, routes 005, 008, 033, 041, 042 and 67 will all operate every 10-15 minutes.